LOOKING FOR A "COVER" CAR?
Past issue highlights include pictures from the cover and the "editor's choice" pictures from inside the issue.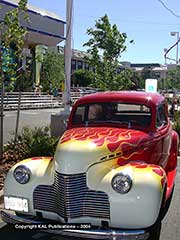 Dana Plans to Sell Majority of Its Aftermarket Lines
Diesel Seen As Unimportant By Automotive Aftermarket
Tenneco Signs Deal with DuPont
$58.3 Billion in Unperformed Automotive Maintenance
Coffee Tops List of Most Dangerous Foods for Drivers
Carroll Shelby to Acquire Allen Engine
Royal Purple Lubes Trademark Purple
LKQ Corp. Buys Global Trade Alliance
Dealers Begin To "Hire the Heroes"
Pep Boys to Open New Distribution Center
Ford Signs a Deal with Vintage Part Makers
West Coast Customs to Launch New Line
Corteco Acquires Precision Automotive Industries
Hella, Craft-Co Launch Iluma Line
CSK Net Income Rises 72% In Quarter
Edelbrock Takes Company Private
SEMA Offers Accessory Installer Testing
Caliber Collision Settles Fraud Suit
AAIA Seeks Industry Volunteers
Dana Aftermarket To Be Named Affinia
USPS to Replace its Truck Fleet in 2005
Letter To the Editor — No On Proposition 64
Dana Completes Aftermarket Sale
Midas to Leave Exhaust Manufacturing
Hino Motor Opens New Long Beach Plant
AAA Names Top Southern California Auto Body Shops