Photo Highlights
December 2004 Cover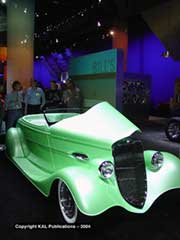 Editor's Choice:
Automotive Aftermarket Industry Week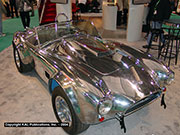 Want to order a photo from the issue? Click here for more information about .
Dana Completes Aftermarket Sale
Midas to Leave Exhaust Manufacturing
Hino Motor Opens New Long Beach Plant
AAA Names Top Southern California Auto Body Shops

KEYSTONE ACQUIRES RELIABLE AUTO
Dana Corporation has completed the sale of its automotive aftermarket business, effective as of Nov. 30, to the Affinia Group, a division of The Cypress Group.
Price tag for the aftermarket division was approximately $1 billion with approximately $950 million paid in cash and $75 million in a note issued by Cypress.
Dana had originally asked for $1.1 billion in cash for its aftermarket assets.
The only part of its aftermarket division Dana has kept is the distribution and marketing operations for its engine products, such as piston rings, gaskets, and engine bearings, which Dana has retained as part of its Automotive Systems Group.
Included in the deal were 52 facilities employing approximately 13,000 people worldwide as well as Dana's replacement product brands — including the Raybestos and Wix brands — and a variety of under-vehicle components.
"We are extremely pleased to bring this transaction to a positive conclusion," said Dana CEO Michael J. Burns, announcing the deal. "We wish the people of the automotive aftermarket businesses the very best moving forward."
Burns added, "We believe the aftermarket team and their customers will be well served by their new association with The Cypress Group, which has expressed its dedication to growing this business and fully optimizing its opportunities moving forward."
MIDAS TO LEAVE EXHAUST MANUFACTURING
National installer Midas is in negotiations to sell its IPC exhaust business and quit manufacturing exhaust products.
According to Midas President Alan Feldman, the company will leave parts manufacturing to focus on the "profitable retail and franchise business" at the core of the company.
Feldman said that terms of the sale negotiations include the future buyer honoring Midas' existing lifetime muffler warranty as well as supplying the Midas chain with muffler and exhaust products.
Once the deal is finalized, Midas officials say they will close their exhaust manufacturing plant in Hartford, WI., and their exhaust warehouse in Chicago, IL.
HINO MOTOR OPENS NEW LONG BEACH PLANT
Hino Motor Limited has opened a new medium-duty commercial truck plant in Long Beach.
Hino, which is 37% owned by Toyota Motor Corporation, receives approximately half of the parts used in production — including engines and cabs — from Japan.
The company says they are planning on reaching a production rate of five trucks per day this year and sales of 3,000 trucks in 2004.
Hino plans to reach annual sales of 30,000 trucks from the Long Beach plant's production by 2010.
AAA NAMES TOP SOUTHERN CALIFORNIA AUTO BODY SHOPS
The Automobile Club of Southern California has released the top 50 "immediate repair" auto-body shops in the territory.
The top shops were selected based on 2003 rankings in customer satisfaction surveys that included proper treatment of the customer, quality of repair, customer communications, and on-time delivery of the vehicle.
The top automotive repair shops named are:
Fosters Body and Paint, Santa Maria
Autobody International, Oxnard
Holmes Body Shop, El Segundo
Grady Garrison's Paint & Auto Body, Corona
Caliber Collision Centers, Rialto
Prestige Quality Collision Repair, Westminster
Greg's Auto Body, Santa Fe Springs
Autobody by Caldwell, Laguna Hills
California Collision Center, Lancaster
Solesbee Auto Crafts, Yorba Linda
Avenue Body Shop, Ventura
Caliber Collision Centers, Rancho Cucamonga
Ferrari Brothers Body Shop, Monrovia
Phillip Thearle's Autowerks, Santee
Bay Cities Auto Boy, Harbor City
Service Auto Body, Covina
Caliber Collision Centers, Anaheim
Clowers Auto Body, Ridgecrest
Pacific Auto Body, Placentia
Seidner's Collision Centers, Riverside
M-2 Collision Center, Burbank
Caliber Collision Centers, San Bernardino
Dealers Service Company, Santa Ana
Imperial Body Shop, La Habra
Ben Clymer's The Body Shop, Moreno Valley
Little John's Body Works, Downey
Prestige Too Auto Body, Torrance
Signal Hill Auto Body, Signal Hill
Firestone Auto Body, Downey
Henson & Son, Escondido
San Pedro Auto Body, San Pedro
Seidner's Collision Centers, Glendora
Canoga Auto Body, Canoga Park
Pasadena Collision Center, Pasadena
Ramon Body Shop, Ramona
Santa Clarita Collision Center, Santa Clarita
Caliber Collision Centers, Hesperia
Camarillo Auto Body, Camarillo
Fix Auto, Anaheim
Hi-Tech Collision and Glass Center, Garden Grove
Holmes Body Shop, Riverside
Foothill Auto Body, Rancho Cucamonga
Kirby Collision Center, Ventura
Weddle Auto Body, Whittier
Len's Auto Body, Oceanside
Tom Bell Chevrolet, Redlands
Precision Auto Collision, Laguna Niguel
Marcos Auto Body, San Gabriel
Greenwald's Auto Body and Frame Works, Chula Vista
Skill Craft Body Shop, Huntington Beach
Originally published in the December 2004/January 2005 issue of Automotive Booster Magazine.
Copyright 2004 by KAL Publications Inc.
Covering the California auto parts aftermarket since 1928.