Photo Highlights
February 2004 Cover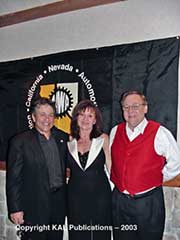 Editor's Choices:
California-Nevada Automotive Wholesalers Association Legislative Dinner and Reception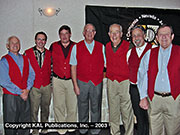 B-20 Salvin School Christmas Visit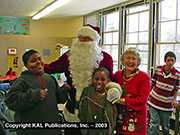 Want to order a photo from the issue? Click here for more information about .
Dana Plans to Sell Majority of Its Aftermarket Lines
Diesel Seen As Unimportant By Automotive Aftermarket
Tenneco Signs Deal with DuPont
$58.3 Billion in Unperformed Automotive Maintenance
Coffee Tops List of Most Dangerous Foods for Drivers

DANA PLANS TO SELL MAJORITY OF ITS AFTERMARKET LINES
Dana Corporation has announced that it plans to sell of the majority of its aftermarket lines in order to focus on supplying automakers with original equipment.
Five years ago, Dana was aggressively expanding its holdings in the aftermarket. The company said at the time that it was becoming a force in the aftermarket to expand its customer base and be less reliant on automakers for its business.
Announcing this change in strategy, Dana President Bill Carroll said that focusing on OE customers "will allow us to leverage our historic strengths in product and process technology to the benefit of our original equipment customers."
DIESEL SEEN AS UNIMPORTANT BY AUTOMOTIVE AFTERMARKET
While diesel is growing in importance as a motor fuel in Europe, over 40% of those involved in the automotive industry in the United States think it will never be a major fuel in this country.
According to a recent survey conducted by the Specialty Equipment Market Association (SEMA), over 41% of the responding automotive industry companies think that diesel will never be a viable market in the U.S.
SEMA asked the 1,132 companies surveyed, "How soon do you expect diesel-powered vehicles to be a market worth pursuing in the United States?" Approximately 23% answered that the diesel market would be worth pursuing by the end of 2004; 19% by 2006, 9% by 2008, 6% by 2010, and 41.43% predicted the market would never be large enough to pursue those customers.
TENNECO SIGNS DEAL WITH DUPONT
Tenneco Automotive has signed an exclusive licensing agreement with DuPont to develop, manufacture and market car care products under the DuPont brand in North America.
This deal is Tenneco's first to expand outside its current niche of ride and emission control products.
The first product to be developed by the two companies will be DuPont branded car appearance products including waxes, protectants, car wash, and tire and wheel care products. The products will feature DuPont's Teflon as a selling point.
Tenneco predicts the DuPont branded products will be available to over 10,000 automotive retail outlets throughout the United States and Canada in the first quarter.
$58.3 BILLION IN UNPERFORMANCED AUTOMOTIVE MAINTENANCE
It is estimated that there is $58.3 billion in unperformed vehicle maintenance in cars and trucks on the road today, according to the Motor & Equipment Manufacturer's Association.
"Neglected maintenance can cause a car to break down and cause hazardous traffic tie-ups, or fail the driver in an emergency situation," said Frank Hampshire, MEMA director of market research. "In addition to the potential safety improvements, tapping into this market could provide a much needed lift to our industry."
Common unperformed maintenance includes regular oil changes, tune-ups, tire changes and rotation, and belt and hose replacement.
COFFEE TOPS LIST OF MOST DANGEROUS FOODS FOR DRIVERS
Hot coffee is the most dangerous item to eat while driving, according to a recent study by Hagerty Classic Insurance.
Hagerty, which specializes in classic car insurance, began studying the issue after receiving a damage claim related to someone eating while driving.
The company found that accidents generally do not occur while eating but, instead, from trying to clean up food and beverage spills. For example, chocolate is considered a "top offender" because it smears and drivers have been distracted from the road while cleaning it up.
The Hagerty Classic Insurance list of the most dangerous foods to eat while driving:
1. Coffee
2. Hot soup
3. Tacos
4. Chili-covered food
5. Juicy hamburgers
6. Barbecue
7. Fried chicken
8. Jelly- and cream-filled doughnuts
9. Soft drinks
10. Chocolate

The data for the risk analysis came from the National Highway Traffic Safety Administration, the Network of Employers for Traffic Safety and Hagerty's own claims files.
Originally published in the February/March 2004 issue of Automotive Booster Magazine.
Copyright 2004 by KAL Publications Inc.
Covering the California auto parts aftermarket since 1928.