Photo Highlights
June 2004 Cover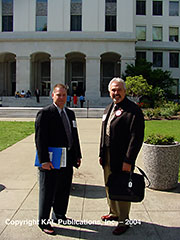 Editor's Choices:
Automotive Aftermarket Coalition Day at the Capitol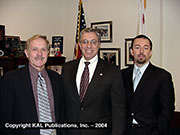 Want to order a photo from the issue? Click here for more information about .
Pep Boys to Open New Distribution Center
Ford Signs a Deal with Vintage Part Makers
West Coast Customs to Launch New Line
Corteco Acquires Precision Automotive Industries
PEP BOYS TO OPEN NEW DISTRIBUTION CENTER
Pep Boys will be opening a new distribution center in San Bernardino in May 2005, according to the company.
The facility will be located at the northwest corner of Tippecanoe Avenue and Mill Street in what was the site of Norton Air Force Base.
The 600,240 square foot warehouse will replace Pep Boys' existing three-building distribution center complex in Los Angeles. The auto parts retailer says they expect "many" of the 240 employees currently working at the Los Angeles facility to relocated to San Bernardino and work in the new warehouse as well as hire new workers for the larger facility. Pep Boys expects to employ 265 workers at the new facility as it opens.
Those who are not interested in relocating to San Bernardino will be offered separation packages.
"We made a strategic decision to relocate and build a new, larger and fully-equipped distribution center in San Bernardino," said Stuart Rosenfeld, vice president of distribution for Pep Boys, announcing the deal. "The spaciousness and design of the new facility will enable us to streamline our operations, increase our throughput and storage capacity, serve additional Pep Boys stores, and expand if necessary.
The new distribution center initially will serve 165 Pep Boys stores; 151 stores in Southern California and another 14 stores in the Phoenix market.
FORD SIGNS A DEAL WITH VINTAGE PART MAKERS
Ford Motor Company has come to an agreement with its licensees expanding the use of the Ford trademark on reproduction auto parts.
Ford has agreed to provide a three-year contract to licensees manufacturing reproduction parts rather than the initially proposed one-year term. All licensees will be given the same terms of agreement, without variation.
The licensees will pay a 7% royalty fee on the use of Ford trademarks on their parts as well as a fee of one dollar per part that bears a Ford trademark or Ford part number, up to a maximum of $1,000. Only one licensee in the distribution chain will have to pay the fee.
If a manufacturer reproduces a vintage part that is then sold by a retailer, only the manufacturer will have to pay a licensing fee; the retailer will not have to pay.
No reporting requirement or fee is required if a Ford trademark is used only in an informational capacity, for example, in a catalog to describe a part application.
The agreement "is the result of lengthy discussions between Ford Motor Company and members of the Automotive Restoration Market Organization (ARMO), the SEMA council representing the automotive-restoration segment," according to SEMA officials.
SEMA Senior Director of Government Affairs Steve McDonald said, "The Ford brand has been a major contributor to the nearly 100-year heritage of classic automobiles. However, Ford could not trade on this heritage without dedicated reproduction-parts makers and retailers. Their passion is to maintain and foster the Ford name by providing the same parts for these classic cars that we see at shows and on beautifully restored vehicles on the road. Common sense and reflection on both sides have carried the day."
WEST COAST CUSTOMS TO LAUNCH NEW LINE
Vehicle security and remote start company Directed Electronics has signed a deal with West Coast Customs to develop a new branded product line.
Ryan Friedlinghaus, owner of Vista-based West Coast Customs, said, "For more than ten years, WCC has been making a name for itself. Sales of our apparel line have been growing rapidly, and we feel partnering with Directed to create WCC-branded consumer electronics products will take us to the next level."
The new West Coast Customs brand is expected to debut at the 2004 SEMA Show.
CORTECO ACQUIRES PRECISION AUTOMOTIVE INDUSTRIES
Corteco has acquired bearing and seal manufacturer Precision Automotive Industries (PAI). Terms of the sale, which was finalized in May, have not been disclosed.
"This product line addition is a natural fit with our current offering of engine gaskets, mounts and power steering hoses," said Phillip Damaska, president of Corteco, announcing the deal.
"We intend to grow this product offering of hubs, bearings and seals by developing industry leading coverage, producing superior products with appropriate marketing support and providing excellent product delivery."
Michigan-based Corteco is a division of Freudenberg-NOK.
Originally published in the June/July 2004 issue of Automotive Booster Magazine.
Copyright 2004 by KAL Publications Inc.
Covering the California auto parts aftermarket since 1928.