Photo Highlights
August 2004 Cover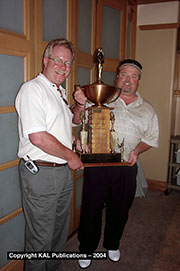 Editor's Choice:
All-Automotive Aftermarket B-20 Charity Golf Tournament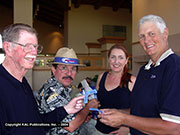 Want to order a photo from the issue? Click here for more information about .
Hella, Craft-Co Launch Iluma Line
CSK Net Income Rises 72% In Quarter
Edelbrock Takes Company Private
SEMA Offers Accessory Installer Testing

HELLA, CRAFT-CO LAUNCH ILUMA LINE
Hella North America has formed a joint venture with Craft-Co Enterprises to manufacture automotive interior lighting systems.
The new company will be called Iluma and will be headed by Craft-Co President James Finley. Iluma will be headquartered at Craft-Co facilities in Morton, Miss., with sales support from Hella's operations in Plymouth, MI.
"ILUMA will capitalize on Craft-Co's reputation as a successful, highly regarded U.S.-based automotive supplier and Hella's global, cutting-edge expertise in the fields of lighting and electronics," predicted Finley.
CSK NET INCOME RISES 72% IN QUARTER
CSK Auto Corp. reported that its net income increased 72% during its first quarter, ending May 2, 2004.
CSK reported that sales rose $19.7 million to $397.1 for the quarter. Same store sales rose 5% for the same time period.
The auto parts retailer says the sales increase translates to a gross profit increase of $13.6 million to a total of $188.6 million or 47.5% of net sales for the quarter.
The sales increases "are a result of strong sales in core product categories such as batteries, brakes, shocks and rotating electric parts and our increasing commercial sales."
CSK also noted they were able to increase their dollar average sale per customer and attract new customers to their stores.
"The increased gross margin dollars and rate are a result of our continuing efforts to lower the acquisition costs in our core product categories and our ability to acquire our promotional products upon more favorable terms," said CSK, announcing the results.
"In addition, we have reduced our store inventory shrinkage through improved store procedures and enhanced inventory control systems."
Phoenix-based CSK is the parent company of Kragen Auto Parts in California as well as Checker Auto Parts and Shuck's Auto Supply.
EDELBROCK TAKES COMPANY PRIVATE
O. Victor Edelbrock Jr., has signed a deal to purchase all of the outstanding shares of Edelbrock Corporation, bringing the company private.
Edelbrock, currently serving as chairman, president, and CEO of Edelbrock Corporation, owned 51.1% of the issued common stock of the auto parts manufacturer before the deal was signed.
It is estimated he will pay $16.75 per share in cash, a premium of 13% over the publicly traded price for the stock. To finance the deal, Edelbrock has taken out a $53 million loan which will be used to buy the stock and for working capital for the company.
Following the purchase of the stock, Edelbrock Corporation will no longer be publicly traded.
SEMA OFFERS ACCESSORY INSTALLER TESTING
Accessory installer certification tests will be held in more than 700 locations across the United States and Canada, offering industry professionals an opportunity to gain official recognition of their skills.
The tests, developed by the Specialty Equipment Market Association, are designed to certify technicians who install accessories on cars and trucks. The certification program is a voluntary process, designed to give installers and their companies a competitive edge in the market.
The tests are available in four modules: Z1/Electric Sunroofs, Z2/Body Exterior Components, Z3/Leather Interiors and Z4/Roof Treatments.
To receive the SEMA credentials, candidates must meet a two-year work experience requirement and pass one or more of the four certification exams. Candidates also have to pass the National Institute of Automotive Service Excellence (ASE) A6 exam on electrical/electronic systems. Technicians fulfilling these three requirements will receive credentials from both SEMA and ASE.
The credentials are valid for five years. SEMA-certified accessory specialists receive a certificate suitable for framing, plus a wallet card, sleeve patch and chevron.
"There's increasing pressure on accessory providers to differentiate their business, demonstrate their skill levels, and instill confidence in the products and services they provide," said Ellen McKoy, SEMA's senior director of dealer relations. "Certification is an important part of that equation, so, consequently, industry-wide support for the program continues to grow."
To request a fall 2004 SEMA Registration Booklet & Test Preparation Guide, including details on Z1-Z4 registration and test fees, contact SEMA at 909/396-0289, ext. 158, or visit www.sema.org/certification.
Originally published in the August/September 2004 issue of Automotive Booster Magazine.
Copyright 2004 by KAL Publications Inc.
Covering the California auto parts aftermarket since 1928.