Photo Highlights
November 2004 Cover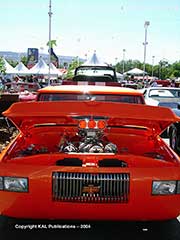 Editor's Choices:
California/Nevada Automotive Wholesalers Meeting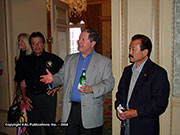 APW/Pronto Open House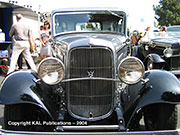 Hot August Nights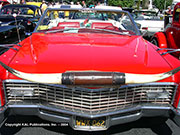 Want to order a photo from the issue? Click here for more information about .
Dana Aftermarket To Be Named Affinia
USPS to Replace its Truck Fleet in 2005
Letter To the Editor — No On Proposition 64

DANA AFTERMARKET TO BE NAMED AFFINIA
Dana's automotive aftermarket business will be rebranded to "Affinia" after the purchase of the business is completed by The Cypress Group.
Managing Director of The Cypress Group Michael Finley made the name change announcement in September. Finley stated that "Affinia" was chosen to represent the aftermarket group's commitment to its employees, customers, business partners, and vendors.
The Affinia name will be used on all company communications — including advertising — when the Dana aftermarket purchase is finalized.
USPS TO REPLACE ITS TRUCK FLEET IN 2005
The U.S. Postal Service reports that it will be replacing its entire fleet of approximately 2,000 Class 8 tractor trucks in 2005.
The agency says it chose to replace the fleet ahead of its normal eight-year replacement cycle in order to avoid the Environmental Protection Agency's next two deadlines for emissions restrictions on diesel engines.
By replacing the trucks in 2005, USPS officials say they will be saving money in the long run because they predict the new trucks with better emissions controls will be substantially more expensive.
"We are less concerned with the technology than the price of technology," said Wayne Corey of the USPS. "We expect even higher premiums on the price of that technology in 2007" when the EPA will require a substantial drop in diesel emissions.
LETTER TO THE EDITOR — NO ON PROPOSITION 64
While political endorsement traditionally has not been a major part of the Booster magazine, we are sharing this letter. It addresses a major issue that has been plaguing the automotive aftermarket in California for the past several years.
Editor,
Proposition 64 is an important measure on the ballot this November. I am sending you this because I think you should know about it.
There's a loophole in California law that lets private lawyers "appoint" themselves to act just like the Attorney General or a district attorney, file lawsuits on behalf of the "general public" and demand attorneys' fees and settlements from innocent small businesses. These private lawyers file these shakedown lawsuits even though no one has been damaged and they don't even have a client! The lawyers then pocket all the money leaving nothing for the consumers they purport to represent.
Proposition 64 will specifically carve out this use of the law by unscrupulous lawyers who file shakedown lawsuits against our state's businesses, when no one has been harmed or damaged and when they have no client, while protecting our right to file a lawsuit if we've been damaged and keep our rightful share of the settlement.
I urge you to take the time to learn about the importance of Proposition 64 by visiting www.yeson64.org or calling (916) 677-5595.
Thanks for listening.
Rodney Pierini
Executive Director, California/Nevada Automotive Wholesalers Association
Sacramento
Originally published in the November 2004 issue of Automotive Booster Magazine.
Copyright 2004 by KAL Publications Inc.
Covering the California auto parts aftermarket since 1928.