LOOKING FOR A "COVER" CAR?
Past issue highlights include pictures from the cover and the "editor's choice" pictures from inside the issue.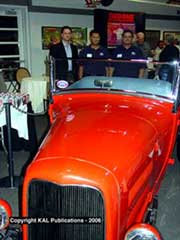 Superior to Sell Suspension Division
FuelMax Ordered Off the Market
Parker Hannifin Acquires TTxe
ArvinMeritor Sells Purolator Filters
Toyota Merges Parts Units
ITS Signs Deal with SPA Turbo
Hella, Behr Launch Joint Venture
Transamerican Acquires Four Wheel Drive Hardware
Oxygen Sensor Leads To $1 Million Fine
ArvinMeritor Sells Exhaust Business To IMCO
CSK Discovers Accounting Problems
Some Diesel Additives Not Appropriate for Diesel Engines
Entries Sought for America's Top Auto Technician
Pep Boys No Longer For Sale
Midtronics Sells Battery Chargers To Schumacher
Heavy Duty Aftermarket Sales Rising
Tips For Finding Auto Flood Damage
CSK Finds $90 Million in Accounting Errors
AAPEX Shortened to Three Days
Armor All Signs Deal To Offer Cleaning Products
Melling Acquires Dura-Bond Bearing
Parts Prices Flat For Over 20 Years
California Firm to Build Mobile Command Vehicle
Covering the California auto parts aftermarket since 1928.