Photo Highlights
February 2006 Cover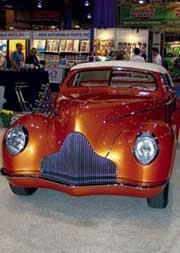 Editor's Choices:
Automotive Aftermarket Industry Week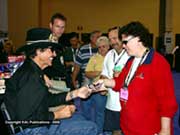 Want to order a photo from the issue? Click here for more information about .
Superior to Sell Suspension Division
FuelMax Ordered Off the Market
Parker Hannifin Acquires TTxe

SUPERIOR TO SELL SUSPENSION DIVISION
Superior Industries has announced that it is looking to sell its suspension components business. The book value of the division is approximately $44 million.
"Today's intense competition in the global automotive industry makes it imperative that Superior focuses all of its resources on its expanding aluminum wheel business," said Chief Executive Officer Steven Borick.
Borick said that all components orders would continue to be delivered as scheduled as the company begins the search for a buyer.
Van Nuys-based Superior manufactures aluminum wheels and other aluminum automotive components.
FUELMAX ORDERED OFF THE MARKET
The parent company of the FuelMax and Super FuelMax line of "magnetic devices" for vehicles has been ordered to stop marketing their products.
The U.S. District Court has ordered the International and Research Development Corp (IRDC) of Nevada to stop marketing their products which the company claimed could "dramatically" increase gasoline mileage. IRDC claimed that its magnetic products could increase gasoline mileage in cars by 27%, reduce emissions by 43% and increase horsepower by 10%.
In its marketing materials, IRDC claimed that the use of the product could save consumers between $8 and $20 per tank of gasoline due to increased engine efficiencies.
The Federal Trade Commission brought the lawsuit against the IRDC, charging that claims for FuelMax and Super FuelMax products were deceptive and false. The FTC charged that the magnetic "fuel saver" does not save fuel, does not increase gas mileage, and does not reduce emissions and the company was unable to provide scientific proof of its claims to refute the FTC.
The aftermarket product was marketed primarily through the internet as well as limited traditional channels.
PARKER HANNIFIN ACQUIRES TTXE
Parker Hannifin has purchased TTxe of Fremont, Ohio. Terms of the sale were not disclosed.
TTxe, which manufactures hard parts for the automotive transmission aftermarket including Roadmaster branded products, had sales of $4.9 million in 2004.
"The TTxe business complements our acquisition of Filtran Aftermarket Products completed in early September, and brings to Parker a management team experienced in growing aftermarket sales," said Heinz Droxner, president of Parker's Seal Group. "We now can offer complete transmission sealing kits for automotive transmission OEMs as well as aftermarket re-builders."
Originally published in the February/March 2006 issue of Automotive Booster Magazine.
Copyright 2006 by KAL Publications Inc.
Covering the California auto parts aftermarket since 1928.