Photo Highlights
June 2006 Cover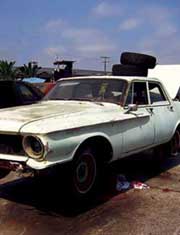 Editor's Choices:
Hanson Distributing Bumper-to-Bumper Reception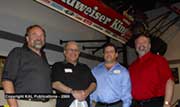 Want to order a photo from the issue? Click here for more information about .
Transamerican Acquires Four Wheel Drive Hardware
Oxygen Sensor Leads To $1 Million Fine
ArvinMeritor Sells Exhaust Business To IMCO

TRANSAMERICAN ACQUIRES FOUR WHEEL DRIVE HARDWARE
Aftermarket retailer Transamerican Auto Parts Company has acquired Four Wheel Drive Hardware of Columbiana, OH. Terms of the deal were not disclosed.
Four Wheel Drive Hardware is a catalog and internet retailer of Jeep, Porsche, Mercedes, and Toyota aftermarket parts and accessories.
"Transamerican Auto Parts is one of the largest automotive aftermarket parts and accessories companies in the country, and with the addition of Four Wheel Drive Hardware and Performance Products, they will now be a leader in the automotive aftermarket for Jeeps, Porsches, and Mercedes," said Barry Ryan, president of Four Wheel Drive Hardware, announcing the deal.
The senior management of Four Wheel Drive Hardware, including Ryan, will continue to lead the catalog and internet business of the company.
Transamerican manufactures and sells tires and wheels, suspension systems, drivetrains, accessories, and other products to wholesalers and consumers through 45 retail locations in 17 states under the 4 Wheel Parts Performance Centers, Transamerican Wholesale, Pro Comp, and 4 Wheel Parts Wholesalers brand names. Transamerican Auto Parts is currently majority-owned by the equity company Bear Stearns Merchant Banking.
OXYGEN SENSOR LEADS TO $1 MILLION FINE
Volkswagen of America has agreed to pay a record fine of $1.1 million levied by the U.S. Environmental Protection Agency over a defect in the oxygen sensor mechanism in the company's 1999, 2000 and 2001 Golfs, Jettas and new Beetles.
The EPA issued the fine, claiming that Volkswagen had "received numerous warranty claims" linked with cracked oxygen sensors beginning in 1999 but did not report the defect until June 2001.
The EPA also noted that it had discovered excess emissions from the Volkswagen vehicles during its own testing prior to the company's admission of a problem.
Under EPA regulations, auto companies are required to file an emissions defect report no more than 15 days after a defect is discovered. The report is required if the defect involves more than 25 vehicles or engines of the same model year. It is estimated approximately 326,000 vehicles had defective oxygen sensors installed.
The EPA stated that the fine was the largest ever issued against a manufacturer for failing to notify the agency of a vehicle defect.
ARVINMERITOR SELLS EXHAUST BUSINESS TO IMCO
ArvinMeritor has sold its North American light-vehicle aftermarket exhaust business to IMCO for an undisclosed amount.
IMCO, based in Schulenburg, TX., manufactures aftermarket exhaust products, including mufflers, converters, chrome and stainless tips, hardware, and performance products.
The sale is part of an ongoing strategy by ArvinMeritor to exit the light-vehicle aftermarket. The company sold its Purolator division earlier this year for $170 million in cash and says it hopes to be completely divested of its aftermarket businesses by the end of the year.
Originally published in the June/July 2006 issue of Automotive Booster Magazine.
Copyright 2006 by KAL Publications Inc.
Covering the California auto parts aftermarket since 1928.