WESTERN PETROLEUM MARKETERS ASSOCIATION CONVENTION
MIRAGE HOTEL, LAS VEGAS, NEVADA, FEBRUARY 17, 2010
We are indeed in somewhat challenging times.
There is one very big difference in life: I can get up in the morning, read the paper, and not think I have to do anything about what's in it.
When you face times like this that seem chaotic, one of the most difficult things to do is not just motivate yourself in the morning but realize you have to motivate others.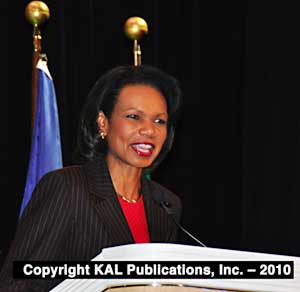 Today's headlines and the judgment of history are rarely the same.
I kept four pictures in my office when I was Secretary of State. I had a photo of Thomas Jefferson. He was the first Secretary of State and everybody has him. I had a photo of George Marshall. He kept the U.S. involved in world affairs and kept 2 million Europeans from starving. I had a photo of Dean Acheson. At the time, he's the one who lost China. He was also the founder of NATO and put the institutions in place to eventually win the Cold War. The fourth photo was William Seward. He was the one who bought Alaska from Russia and, at the time, they called it Seward's Folly and Seward's Ice Box. Now, I think we're glad we have Alaska.
First and foremost, we must defend the country. I am grateful in the years after 9-11 there was not a successful attack on the U.S.
When we're dealing with terrorists we have to be right every time. And they only have to be right once.
If we're going to remain the open country we are, we have to push out the lines of defense.
Our biggest threat isn't from the established states. It's from weak and failing states. A prime example of this is Afghanistan.
We have to help failed and failing states heal. Look at Afghanistan. There are no roads except the ones we built. There is very little electricity.
We have to advocate for Democracy. If we fail to advocate for Democracy, no one will.
I'd rather be naive than cynical.
We have to stand for the rights of every man, woman, and child to live in freedom.
We have to be careful not to throw away the important principles that have undergirded our economic progress and growth.
We must reaffirm that any growth we enjoy, any expansion we enjoy is because the private sector leads it.
I lived in Washington for eight years. Washington is a lot of things. Creative, innovative, and risk-taking are not among them.
It's also going to mean reaffirming free trade. The U.S. does best with free markets.
Others will protect better than we can. We will lose in a protectionist environment.
We all need to be interested in alternative sources of energy development and supportive of that. But come on. It's going to be awhile until any alternative can provide the energy that oil and gas currently do.
One of the problems the U.S. has is we have huge transportation networks. This country's economy moves on interstate trucking. And that's not run on wind.
I believe if we can do these things, we can fuel a recovery that is sustainable.
Russia has fallen into crony capitalism where personal fortunes and economic policy are linked up.
What China has achieved economically is extraordinary. They have gone through one of the most rapid economic transformations in history and they have done it with a billion people.
They [China] can't afford the social tensions of people not finding jobs. In 2008, there were 70,000 reported riots in China.
In a rigid political system, there aren't the political shock absorbers we have. In a democracy, in the final end, if we don't like what's happening we can throw the bums out. That doesn't happen in China. Remember when there was a problem with product safety in China? They executed the product safety manager. This is not a sustainable model.
Can a country that is so afraid of the Internet lead the knowledge revolution? I'd suggest to you, no.
The competition is the U.S., but the U.S. gone bad. It's a U.S. that doesn't deal with crushing debt issues, that doesn't embrace the leadership of private capitalism, that doesn't recognize who we really are.
If American capitalism dies, so does Berlin and Paris.
The one thing that people have no ambivalence about is our national myth. It is the log cabin. It doesn't matter where you come from. It matters where you're going. And that national myth has attracted people from around the world. It has made the most ambitious people from around the world want to be part of it.
It is not enough that they feel it around the world. We have to feel that dream, too.
Can I look at your zip code and tell your kids aren't going to get a very good education? If I can then that's not right.
If we can make certain that the least fortunate among us have a chance at the American dream, then we're doing right.
Americans are optimistic by nature. We need to rekindle our optimism. I wonder about those people who left the East and traveled west across the continental divide. They had to be optimists.
This country is special. I'm not saying we're better. I'm saying we're special. Just any other country would not have sent men to storm the beaches at Normandy to protect the rights of people they didn't even know.
We need to think of our policies on energy and environment and keep those in balance. Global warming or not, we all want a cleaner environment.
I assume there is warming. The question is how much is due to human activity and how much is natural. I'm not qualified to answer that question.
We need to be certain we're using the best science — not politicized science — to get the best answers. There have been problems with this.
Part of the the problem has been rhetoric that has thrown more heat than light on the problem.
A lesson I learned: it's awfully important not to be thrown off center by the deadline of the day, the crisis of the day. In the White House, it seems like everything is nuclear war. And, in fact, some of the things aren't nuclear war. They're paper clips. You have to know the difference.
The key in very turbulent times is focus on what had to be done and what was important to do. I tried to keep my wits about me and not believe things are out of control and let my people know the same. What good does it do anyone if you say things are out of control?
I think you have to divide people who are reconcilable and people who are not. There are some people you can talk to. There are some people who just want to kill us. It's harsh but it's true. Our only option with them is to get them before they get us. But there are a lot of Muslims who don't want their children to become suicide bombers.
The U.N. has some very good organizations. The U.N. does very good work in peacekeeping in places the U.S. would not want to send its forces. When the U.N. gets into trouble is when it tries to supplant the interests of its member states. The U.N. operating as the U.N. isn't going to solve any problems. But if you look at its branches, I think it's a valuable organization.
Iran is seeking a nuclear weapon. There is no doubt about it. If the Iranians got a nuclear weapon, then everyone in the Middle East will want a nuclear weapon and we're off to the races in that part of the world.
The Iranian government is a shell right now. 70% of the Iranian population is under the age of 30. They have a weak economy and an unpopular government. They are done.
There do need to be crippling sanctions on Iran. You don't need to put it on Iranian oil and gas. You just need to take away their ability to insure. We can do that with the help of Europe and Australia.
The Iranians with a nuclear device are going to drive up the price of oil beyond where you would ever expect to see it.
You're not going to solve the North Korean nuclear problem until Kim Jong-il goes away. But you can manage it. What do I mean? North Koreans are crazy but they're not suicidal. I don't think they would attack because they understand the balance of power. The danger is they will sell a nuclear device to a rogue state or a terrorist group. That's the real threat with North Korea. The current Six-Party Talks can help manage this. Ultimately, it will take China's involvement and China is very involved.
Music makes all the difference in my life. Struggling with Brahms isn't relaxing but it is transporting. When you're struggling with Brahms, you can let go of everything else.
I tend to be pretty firmly on the side of free speech.
[Asked about the Supreme Court decision allowing corporations and organizations to lobby legislators:] The issue is how to keep the confidence of the American people that there is not so much collective money going into politics that the voice of the individual is drowned out. I hope there will be self-regulation because we believe fundamentally in the voice of individuals.
I know and admire people who run for office. I don't mind that in campaigns people are treated a little rough. I think we need to see how candidates handle themselves when things are rough and troubled. But I know you have to have a fire for it. I believe there are other ways to engage in public service and I will always do that.
Trade magazine publishing featuring a "hometown paper" approach to industry news, events, and the people who make it all happen.