WESTERN PETROLEUM MARKETERS ASSOCIATION CONVENTION
MIRAGE HOTEL, LAS VEGAS, NEVADA, FEBRUARY 21, 2008
I've always found that after you get some experience, after you get some confidence doing something, that's when you're going to get humiliated.
When I retired from pro football 20 years ago, I started to get more requests for doing motivational speeches. It's very comparable to what a coach does to try to inspire his team.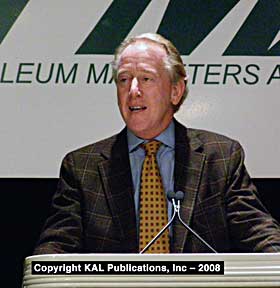 I kept a diary for the first 10 years as an NFL quarterback and then I quit doing that in the fear that I might write a book about it someday.
In a losing dressing room, everyone gets dressed quick and gets out of there.
According to a Dun and Bradstreet survey, seven years is the average life of a business. 2/3 of new businesses fail in five years. 92% of business failures occur not because of bad products, bad location, or bad economic climate but because of bad management. This bad management is so often present in our personal management as well.
1. Challenge to manage your thoughts. Sometimes we might have to concede that the other team might be bigger, stronger, faster. But if we would think like winners, we would win. We would have more conditioning, more work, more team, but it all starts with thoughts. You can be a winner every day of your life. It just depends on how you think.
2. Manage your goals. Have a written goals program. If you don't manage your goals, someone else will. Indistinct goals create indirect behavior.
3. Manage your actions. So many young people feel they put on the uniform and become a star overnight. They don't.
4. Live a life of service and achievement.
Trade magazine publishing featuring a "hometown paper" approach to industry news, events, and the people who make it all happen.