NATIONAL ASSOCIATION OF CONVENIENCE STORES CONVENTION
LAS VEGAS CONVENTION CENTER, LAS VEGAS, NEVADA, OCTOBER 21, 2009
Everybody is going faster and faster every day.
I think customer satisfaction is very fragile. What gets you today is customer enthusiasm. What gets you to the position where customers are so enthusiastic that is doesn't matter what the price is. Look at Harley Davidson, where someone tattoos a logo on their own body they're so enthusiastic.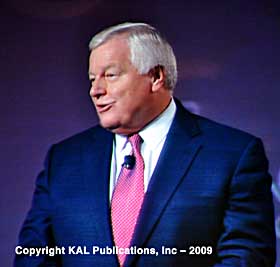 Build a strong foundation. What sets you apart? What do people understand about who you are and what you do? What's the next thing? What's the next great idea that will get us closer to the customer share and what we want to do?
World class is being brilliant at the basics. Nothing else matters. Broken equals dirty in people's minds.
Make everyone feel special. Don't we each have a place that makes us feel special? It might be a clothing store. For me, it's a dry cleaner.
I worry when people get big. They don't pay attention to how people are changing, how the market is changing.
You need to change your product offering. You're looking to keep up with people's needs.
This industry is so big but it's also so fragile. On 9/11, the travel agency was on its knees in one hour. A week later, the U.S. economy followed.
The travel industry is like the drama club. We're nice people and we put on a good show.
One of the things we're in together is the swine flu thing. We need to get the facts out. If they put a travel ban in place, if they tell you to be careful anyplace you go out, anything you touch in public, what would that do to your business?
How do we light the fire within? Everyone's working on the mission statement and vision. Will your people be able to do what they've gotta do? I think that's so important.
Stop playing not to get hurt. Play to win the game.
Trade magazine publishing featuring a "hometown paper" approach to industry news, events, and the people who make it all happen.