Currently, $3.83 per gallon has Las Vegas drivers worried prices will go up even higher before the summer tourist season. However, after recently returning from a visit in California where gasoline prices were much higher, I was happy to fill up in Nevada!
I arrived back in Las Vegas in time to attend the debut of the EdgeRunner. Saddle up on one of these cargo bikes and you can travel with ease, take your kids to school, shop for groceries and carry along your purchases. Free electricity charges are available at public recharging stations throughout the city.
If riding a bicycle is not your "thing," an array of plug-in electric vehicles "electrifies" Southern Nevada. Clark County, as well as Las Vegas and North Las Vegas and many of the hotels all make electric charging stations available.
No one is surprised to learn the Xpress West, a proposed high-speed train between Las Vegas and Victorville, California continues to remain on the "drawing board" for many months ahead. I wonder, what will I do after I reach Victorville?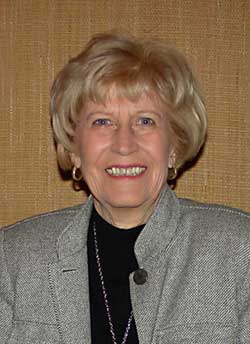 The Western Petroleum annual convention and trade show, "Connect, Communicate, Create the Future," was held at the Mirage Hotel in Las Vegas. WPMA President Brett Adams of Adams Petroleum Inc. in Burley, Idaho chaired the event. WPMA Board members, guests and exhibitors mingled over a continental breakfast before the standing room-only keynote address. The speaker, Alan K. Simpson, former Senator from Wyoming and co-chair of the Simpson-Bowles Commission on Fiscal Responsibility, addressed an audience of nearly 1,000 attendees.
Golfers looking forward to the annual WPMA Golf tournament in sunny Las Vegas were not disappointed though a few raindrops fell on the beautiful TPC Golf Course. Tournament prize winners will be announced in the WPMA News post-convention magazine.
The Ladies' Luncheon, was hosted by WPMA's First Lady Mary Frances Adams where Barbara Morgan, former NASA Astronaut and current Distinguished Educator in Residence at Boise State University, spoke on her "Reflections of a Teacher in Space."
I always look forward to the WPMA Scholarship Foundation Silent Auction and this year's display did not disappoint. There was an array of sports equipment, a variety of trips, jewelry, you name it — it was there for a lucky bidder. This year Auction bidders enjoyed the new "Buy it Now" option, which allowed them to take home the items they truly wanted to win. The Scholarship Foundation also held fundraising raffles for a $7,500 NCAA Championship Game Package and a Callaway Golf Equipment Package. The WPMA Convention golf tournament raffles and Silent Auction raise the revenue needed to award a $4,000 scholarship to a deserving student from each of the seven WPMA member states, and one to a student from an associate member company.
Save the date, May 9-10, 2013, and attend the Big Dogs Shootout at the Red Rock Casino and Spa, Las Vegas, NV. It is sponsored by Nevada Petroleum Marketers & Convenience Store Association and includes a dinner, keynote speaker, and a golf tournament. For room reservations call: 866-767-7773 to receive a Room Rate of $149 per night with the room reservation code RCI NEV. For a Big Dogs Registration form or to reserve your room on-line go to: www.wpma.com/nevada.
Originally published in the April 2013 issue of the O&A Marketing News.
Copyright 2013 by KAL Publications Inc.
Serving the 13 Western States, the World's Largest Gasoline, Oil, Fuel, TBA and Automotive Service Market