Photo Highlights
Want to order a photo from the issue?
Click here for more information about .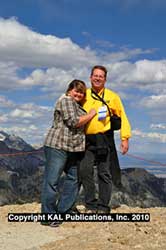 Colorado-Wyoming Petroleum Marketers Association Convention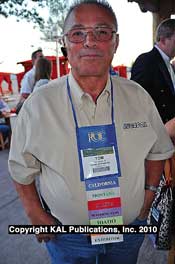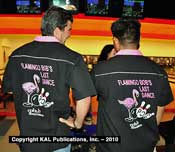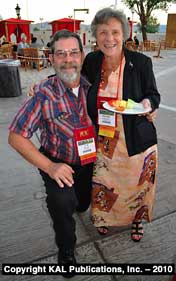 Pacific Oil Conference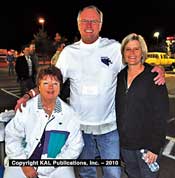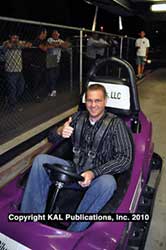 Nevada Petroleum Marketers Association Tanker Yanker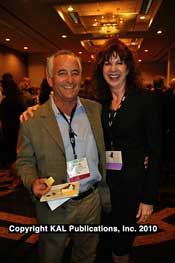 Petroleum Marketers Association of America Fall Meeting
Want to see the photos that didn't make the issue? Check out the .
GE Acquires Dresser Inc. For $3 Billion
Men Arrested For Skimming In Northern California Stations
Havoline To Move Under Chevron Brand
Warren Unilube Pays $650,000 In Fines
Moyle Petroleum Buys Flying J C-Stores
Tesoro Restarts Anacortes Refinery
GE ACQUIRES DRESSER INC. FOR $3 BILLION
FAIRFIELD, CT. — GE has announced that it has signed a contract to acquire Dresser Inc., the parent company of gasoline dispenser manufacturer Dresser Wayne.
The deal, valued at $3 billion, includes Dresser's energy industry operations including technologies for gas engines, control and relief valves, measurement, regulation and control solutions for gas and fuel distribution.
Headquartered in Addison, Texas, Dresser has operated in more than 100 countries, delivering compression, flow technology, measurement and distribution infrastructure and services to customers in more than 150 countries. Dresser had revenues of $2 billion and earnings of $318 million in 2009.
Announcing the deal, Dresser president and CEO John Ryan said, "Joining the GE family will enhance our company's capability to provide best-in-class energy technologies to a much broader segment of the energy sector. Our employees have worked hard to build a world-class reputation and we are confident that our tradition of putting the customer first will continue to be the standard. Today's announcement marks the beginning of a great opportunity for our customers and employees as we put these two 100+ year old companies together and create new paths for growth and innovation."
GE officials say the deal "will expand GE's core energy offerings and extend its reach into adjacent offerings for its energy and industrial customers."
The acquisition is expected to close "promptly" after receiving regulatory approval.
MEN ARRESTED FOR SKIMMING IN NORTHERN CALIFORNIA STATIONS
MARTINEZ, CA. — Three men have been charged with identity theft and conspiracy linked with skimming devices installed on gasoline dispensers in Northern California.
The investigation began in February when a clerk at the 7-Eleven station, located on Morello Avenue in Martinez, discovered a skimming device on the gasoline dispenser and called the police. The skimmer was designed to capture the account number and PIN number of gasoline customers filling up at the station. Police removed the skimmer and replaced it with a decoy. Police then kept watch at the station, waiting until the suspect came to retrieve the device.
Police reported that David Karapetyan, 32, and Zhirayr Zamanyan, 30, were seen entering the station at approximately 1:30 a.m., opening the gasoline dispenser with keys, and removing the decoy skimmer. It was estimated that it took the men less than 20 seconds to open the dispenser and remove the device.
When the suspects left the station, they were intercepted by police who discovered several skimmers, fraudulent credit cards, and the addresses of "numerous" gasoline stations. Police followed up at the stations on the suspects' list and discovered additional skimmers in place at stations in Martinez, Benicia, Livermore, Hayward, Oakland, San Mateo, and Sacramento.
Karapetyan, Zamanyan, and Edwin Hamazaspyan, 31, all of Los Angeles, have been charged with 42 counts of felony identity theft and one count of conspiracy. Police charge they have stolen $158,000 from 196 people through the use of the skimming devices.
If convicted on all charges, each man faces up to 31 years in prison.
HAVOLINE TO MOVE UNDER CHEVRON BRAND
SAN RAMON, CA. — In the latest move to further consolidate the Texaco brand into its parent company, Chevron Products Company has announced that it will consolidate its Texaco Havoline lubricant product line in North America under the Chevron brand in North America.
As a first step to the consolidation, the updated Havoline product line will feature the Chevron logo beginning mid-2011. Havoline Xpress Lubes will also add the Chevron logo to their quick lube operation branding.
Chevron had maintained the Havoline brand following the Chevron-Texaco merger as it was found to be a stronger and more recognizable brand for lubricants and coolants than Chevron's offerings.
Chevron officials said as part of the rebranding, Havoline will have "increased distribution" through Chevron distributors and retailers. The Havoline brand had, in some areas, been limited to stations carrying the Texaco brand. With this change, Havoline products will be sold regionally under the master brand that provides the greatest marketing advantage — Texaco in Europe and Latin America, Caltex in Asia Pacific and Africa, and Chevron in North America.
"Moving the Havoline product line under the Chevron family is the natural next step in consolidating our North America lubricants, coolants, additives and chemicals products under one master brand," said Doug Hinzie, vice president, Americas, Chevron Lubricants. "In 2008, the company began this process by successfully bringing its commercial and industrial product lines under the Chevron master brand. With this move, the Havoline brand will achieve greater visibility, increased retail opportunities, expanded marketing support and the benefits of being part of the Chevron brand, which enjoys a much larger presence than Texaco in North America. This change is one component of our long-term plan to reinforce and grow the Havoline brand — one of the most enduring, respected and valued brands in the lubricant market."
WARREN UNILUBE PAYS $650,000 IN FINES
SANTA ANA, CA. — Warren Unilube has agreed to pay $650,000 to settle a case in California for allegedly selling wrong grade motor and gear oil and mislabeling various products.
The Orange County District Attorney (OCDA), with assistance from the California Department of Food and Agriculture, Division of Measurement Standards (DMS), had filed a civil lawsuit to enjoin Warren Unilube from engaging in acts California claimed were unfair business practices and false and misleading advertising.
During a random product testing program in 2009, DMS determined that samples of Coastal gear oil were a different grade than what was represented on the bottle label. During a subsequent investigation into other Warren Unilube products, DMS also found a similar violation in AutoZone motor oil. State officials also found that bottles of gear oil were mislabeled because they did not have a batch number, which is used to trace back tainted product and facilitate recalls if necessary.
Thousands of bottles were found to be "improperly labeled" because the font size on the labels was too small. Under California law, for containers greater than 1 gallon the letters must be at least ½ inch high. For containers of 1 gallon or less the letters must be at least ¼ inch in height in a 1/16 width.
According to Lesley Young, the Deputy District Attorney, County of Orange, the investigation did not reveal any evidence of actual harm caused to California consumers by the Warren Unilube violations and the company worked to immediately solve the problems found by the state, including purchasing "additional testing equipment to ensure future batches of product are in compliance with California law." In addition, Young said Warren purchased and installed a new state of the art "laser etching system to burn batch numbers on the bottles."
The settlement requires Warren to institute a testing program to ensure the quality and labeling of their products are in compliance with California laws as well as pay the fine.
MOYLE PETROLEUM BUYS FLYING J C-STORES
RAPID CITY, SD. — Moyle Petroleum, based here, has acquired nine convenience stores from Flying J Inc. The purchase price for the stores was not disclosed.
Three of the convenience stores are located in Idaho and six of the c-stores are located in Utah. The locations will be rebranded to the Common Cents image used by Moyle Petroleum.
Prior to the purchase, Moyle operated six service stations with convenience stores in Utah and eight in Idaho as well as additional Common Cents locations in Wyoming, South Dakota, and Nebraska.
With the sale of the convenience stores, Flying J officials have completed the steps for their bankruptcy reorganization that were agreed to in the court proceedings.
The purchase was completed in November.
TESORO RESTARTS ANACORTES REFINERY
SAN ANTONIO, TX. — Tesoro has announced that it has completed the process to restart its refinery in Anacortes, Washington. The facility had been shut down since April when an explosion at the refinery killed seven workers.
"Today, most of the refinery is operating and we expect to be back to normal operations soon," said Greg Goff, president and CEO of Tesoro. "In addition to completing repairs to the damaged units, extensive future inspections and maintenance work was accelerated to take advantage of the down time."
The Washington State Department of Labor and Industries fined Tesoro $2.39 million for violating workplace safety and health regulations. Tesoro has appealed the fine and penalties and says it will "work closely with investigators regarding this incident and continue to drive safety improvements throughout the company."
The Anacortes refinery has a capacity of 120,000 barrels of crude per day.
Originally published in the December 2010 issue of O&A Marketing News.
Copyright 2010 by KAL Publications Inc.
Serving the 13 Western States, the World's Largest Gasoline, Oil, Fuel, TBA and Automotive Service Market