Photo Highlights
Want to order a photo from the issue?
Click here for more information about .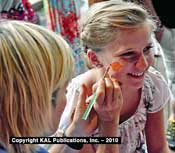 Northwest Pump & Equipment Customer Appreciation BBQ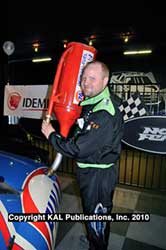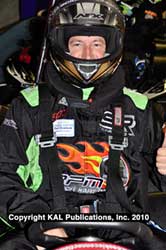 InterState Oil Race for the Wish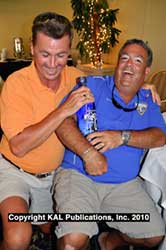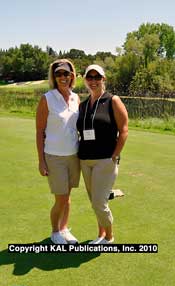 Valley Petroleum Industry Invitational Golf Tournament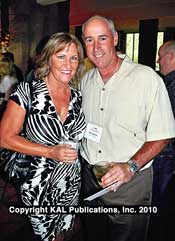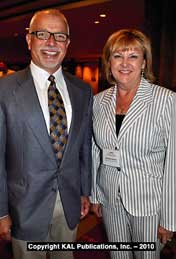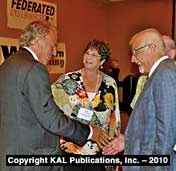 Arizona Petroleum Marketers Association Convention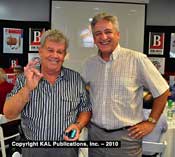 Sergio Bravo 79th Birthday Party
Want to see the photos that didn't make the issue? Check out the .
VST Hold-Open Latch Issue Escalates
Tesoro To Expand Shell Network In West, Midwest
Fuel Relief Fund Aids Victims In Disasters, Local Communities

VST HOLD-OPEN LATCH ISSUE ESCALATES
SACRAMENTO, CA. — An order to remove all VST hold-open latches has evolved into a lawsuit against the equipment manufacturer, potential legislative action, and possible review of the state of California's petroleum equipment certification process.
Several years ago, the state of California ordered all service stations to install nozzles with hold-open latches. The theory behind the regulation was that consumers who were filling up their tanks would be able to move away from the dispenser and, therefore, breathe in fewer emissions during the fueling process. It was put forward as a public health issue and all marketers in the state were required to replace their nozzles with ones that had hold-open latches, at a great expense statewide to service station owners and operators.
Of course, all nozzles in operation had to be approved by the California Air Resources Board as safe, effective and reliable. For a lengthy period of time following the enactment of the regulation, the only nozzle with CARB approval was the Vapor Systems Technology nozzle. As a consequence, the VST nozzle was put into place across the state by marketers who were seeking to come into compliance with the law.
All stations were required to have hold-open latches by mid-April. It is estimated that there are currently 35,000 VST nozzles in use in over 3,000 locations across California.
In June of this year, it became known that CARB and VST were aware of a problem with the nozzles. In an advisory issued by CARB and the California Fire Marshal, they noted that "In rare instances, VST nozzles can unexpectedly cause gasoline to spray upon activation of the dispenser and before the nozzle is put into the vehicle fuel tank. The California Air Resources Board and the Office of the State Fire Marshal have confirmed this situation."
In the same advisory, it was noted that VST "has identified a short-term fix that can be executed immediately to prevent gasoline spray. The fix involves removal of the nozzle hold-open clip." They stated that "Removal of the hold-open clip from VST nozzles is necessary to reduce fire risk from potential gasoline sprays and protect public health."
At the same time, Glenn Walker, president of VST, issued a product bulletin stating "In order to protect the public, the removal of all nozzle hold-open clips is required until an alternate solution is adopted. Effective immediately, all future production of VST balance nozzles, both new and rebuilt, will be shipped without hold-open clips. In addition, we are dispatching crews to our distribution locations to remove the hold-open clip from all existing inventory. Furthermore, and most importantly, we have dispatched a number of contractors and VST personnel throughout the state to begin the removal of all nozzle hold-open clips currently in service."
Walker also stated that VST had "surveyed numerous gasoline dispensing facility sites throughout the State of California and found that many sites have not been conducting weekly inspections of equipment as outlines in the applicable Executive Orders. VST has catalogued a huge and unanticipated number of drive-off events throughout the state (thousands per month). Furthermore, it has also been reported that a number of illegal and unauthorized repairs are being made to our equipment." He added, "In the event that proper maintenance, repairs, replacements,and inspections are not conducted, a nozzle failure may occur and result in a hazardous condition."
"Owners and operators are faced with a very difficult, immediate choice," said Jay McKeeman of the California Independent Oil Marketers Association. "They can allow VST personnel to remove the hold-open latches and take the operational and legal risks associated with that decision or refuse to have the hold-open latches removed and take the risks associated with that path. At this time, none of the deciding parties have indicated they will assume any financial or legal responsibility for the results from making either of the decisions."
The service station owners, many of whom had only recently completed their nozzle upgrades, were angry about the prospect of sinking even more money into their nozzle systems. Again, mid-April had been the deadline for compliance with the law — which was suspended two months later — and service station operators say the cost of the mandated upgrades to install the systems was approximately $11,000 per pump. When the price tag for removing the hold-open mechanism was announced at approximately $300 per nozzle, the outrage grew.
Marketers protested VSTs actions with the California Air Resources Board, saying they should not be paying for the removal of the defective latches and they should not be liable for any safety problems with the nozzles they were mandated to buy by California officials in order to comply with the law. In addition, many of the VST crews reportedly entered stations and performed the hold-open latch removal work on the nozzles without informing service station owners that they would be there or that they would be working on their equipment.
In response to that protest, VST suspended its latch removal operations until a compromise could be worked out with CARB and CIOMA.
In July, three dealers filed suit against VST over the nozzle controversy. They asked for a court order banning VST from removing the clips and requiring the company to replace their nozzles, which they considered "defective." The nozzle was to be replaced with equipment that functioned correctly. The suit also is seeking a ban on advertising by VST claiming that the clips meet California state requirements and is asking the court for damages if they find their customers are fueling elsewhere because of the nozzle issue.
The situation continued to escalate. In a letter issued at the end of August, the California State Fire Marshal issued an order that mandated the removal of all hold-open latches on every VST nozzle in the state. The order requires that all latches must be removed from the nozzles by October 15, 2010; if any are found at a station after that date, the station could be shut down by local fire officials until it comes into compliance.
"We believe it is an over-reaction that will cause significant economic harm to station owners and operators," stated McKeeman in a letter to sent to legislators following the mandate to remove the hold-open latches or be shut down.
McKeeman asked for a reasonable and cost-effective alternative to replacing the hold-open latches such as an inspection process. This idea has gained traction. CIOMA, along with the Western States Petroleum Association, and the California Service Station and Auto Repair Association, is currently developing a plan that might be used as an inspection protocol — following a request to do so by the office of Governor Arnold Schwarzenegger.
If marketers were to be required to spend over ten million dollars statewide to fix nozzles that they were mandated by the state to install, CIOMA also asked for financial help from California to pay for the costs. In the same letter to legislators, McKeeman said that marketers would receive "substantial economic harm" because of an "inept" certification process from CARB and asked that an independent, third-party audit be launched to determine if all VST nozzle components were subjected to "full and rigorous testing both during the [CARB] certification process and by independent testing laboratories."
If the audit goes forward, it could bring the entire CARB certification process for petroleum equipment testing under review.
The issue is continuing to rage in the halls of Sacramento. California Senator Ron Calderon has circulated a letter on the Senate Floor noting the problems with the nozzle situation and asking agencies for an inspection alternative as well as a "prompt disclosure" from CARB regarding a technical fix to the VST nozzle malfunctions and clarification regarding financial responsibility. A similar letter is being circulated in the state Assembly and legislators are signing on.
In addition, the issue is beginning to expand into the public eye. Talk shows have "gained the attention of the nozzle fiasco," said McKeeman, and they are "roasting CARB and the Fire Marshal."
TESORO TO EXPAND SHELL NETWORK IN WEST, MIDWEST
SAN ANTONIO, TX. — Tesoro has signed a deal to acquire the existing Shell-branded wholesale supply contracts in Utah, North Dakota, South Dakota, Minnesota, and most of Idaho. The acquired contracts represent approximately 300 Shell-branded stations.
The stations will be supplied by Tesoro's refineries in Salt Lake City, UT., and Mandan, ND.
Post closing, the number of Shell-branded stations within the Tesoro retail system is expected to be approximately 650. Under the terms of the agreement, Tesoro may also expand the Shell brand through retail stations.
"Shell has one of the most recognized retail gasoline brands in the world and we are pleased to expand our usage of the brand," said Everett Lewis, Executive Vice President and Chief Operating Officer.
The transaction will become effective January 1, 2011.
FUEL RELIEF FUND AIDS VICTIMS IN DISASTERS, LOCAL COMMUNITIES
"The next best thing to food, water, and shelter." That sentiment was the founding idea for the Fuel Relief Fund, a non-profit organization founded to help victims immediately following the devastation of a natural disaster.
Ted Honcharik, chairman of the Fuel Relief Fund and CEO of Pacific Tank Lines, Riverside, CA., recently discussed the activities of the Fuel Relief Fund to help the victims of the Haiti earthquake at a meeting of the California Independent Oil Marketers Association.
"When I first landed in Haiti, there was rubble everywhere filling the streets," said Honcharik. "You could smell the dead bodies. Every large church, every government building of every size, the prison — which had 400 rapists and murders in it — was empty. The buildings were just destroyed.
"There were a million people who lived in houses," he continued. "Now they're staying on their property in a tent. Or living in a concrete pipe. Or living under a piece of siding or cardboard."
In this desperate situation, Honcharik was able to secure the use of a tanker truck and convert it to use for fuel by installing a small meter and hose. The next question: how to distribute the fuel where it would do the most good?
"At the beginning, we just followed the light," he explained. "We knew if we saw a light, they had a generator. And if they were serving people and doing good, we gave them fuel. The first light we saw was a police station. They said their generator was almost empty and they didn't know where they were going to get more. We said, 'If we fill your tank, will you show us who has a generator and where we can help?' They said yes and that's where it all started. That evening fuel delivery service started and has not ceased since then."
Honcharik and other volunteers then traveled through the devastated town to locations to where they could provide fuel to generators that were being used to help the victims of the earthquake. Fuel was delivered to hospitals to run their generators, to clinics so they could run purification equipment to filter water, to tent cities to provide light and help cut the crime that was running rampant through some areas.
"We provided power consistently for 2 1/2 months in Haiti to over 500,000 people for $50,000," noted Honcharik. "We have people who know how to rough it, to do without anything for quite awhile, and get the fuel out there where they need it. And where do they need it? Orphanages. Clinics. Tent cities. Police stations."
He added, "The U.S. Army did a fantastic job in Haiti. We should all be proud of what they did. They directed me constantly to locations — yes, there's a clinic here. Yes, we know they have a generator. They helped us and we were able to help them provide fresh water at hospitals by providing fuel to run purification machinery."
Haiti was not the first natural disaster to be aided by the Fuel Relief Fund. The organization was founded in response to the needs of the petroleum marketers following Hurricane Katrina and was able to bring in tanker trucks full of fuel for distribution when traditional sources were unavailable.
Honcharik noted that the Fuel Relief Fund does not just respond to major international disasters; they also work in local communities. "Pacific Tank Lines employees take a payroll deduction from $2.00 to $20 and up," he explained. "We take that money and buy fuel cards and give them to organizations in our community like Meals on Wheels who provide services." With the help of Oklahoma Tank Lines, the group donated fuel cards to victims of the tornados that hit that state in May. The group also provided fuel cards to victims of the earthquake that struck Baja California in April.
Honcharik encouraged everyone active in the petroleum industry to become involved with the Fuel Relief Fund. "It makes sense," he explained. "When there is a disaster, food manufacturers donate food. Clothing manufacturers donate clothing. We are in the fuel industry. We should be donating fuel to those in need."
For more information about the Fuel Relief Fund, a 501 (c)3 non-profit organization, visit www.fuelrelieffund.org.
Originally published in the October 2010 issue of O&A Marketing News.
Copyright 2010 by KAL Publications Inc.
Serving the 13 Western States, the World's Largest Gasoline, Oil, Fuel, TBA and Automotive Service Market