Photo Highlights
Want to order a photo from the issue?
Click here for more information about .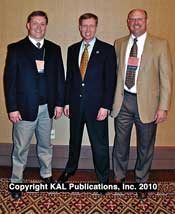 Washington Energy and Convenience Store Convention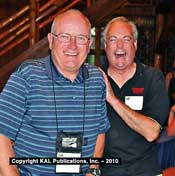 Oregon Petroleum Association Convention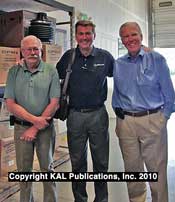 Shields, Harper & Company Open House
Want to see the photos that didn't make the issue? Check out the .
Arizona Officials Report Increase in "Skimmer" Fraud
ConocoPhillips Sells Flying J Partnership To Pilot
UNEV Pipeline, Terminals In Construction

ARIZONA OFFICIALS REPORT INCREASE IN "SKIMMER" FRAUD
PHOENIX, AZ. — An increase in the use of "skimmers" at service stations has prompted the Arizona Department of Weights and Measures to increase station inspections and to warn consumers to protect themselves from identity theft.
Police departments in Maricopa, La Paz and Mohave counties, and in the cities of Phoenix, Lake Havasu City, Bullhead City, Kingman, Glendale and Surprise have reported at least 30 cases related to "skimmers" found on gasoline dispensers within the last six months, according to Shawn Marquez, director of compliance programs for Weights and Measures.
The police reported that the skimmer operators "move in and out of each area quickly."
The skimmers are placed on credit card readers on the gasoline dispensers and copy the data on the card when it is swiped by a consumer at the service station. The skimmer data is then used to make counterfeit credit or debit cards. In some instances, the devices resemble small lock boxes and are visible to service station patrons and operators who are looking to detect them.
Arizona Governor Jan Brewer has directed the Department of Weights and Measures to increase training and inspection efforts to search for skimmers. State inspectors will increase the number of inspections on gasoline pumps and dispensers, hold training seminars for its officers on technology used to detect skimmers and "work with professionals in the petroleum industry to collaborate on detection and protective measures," Marquez said.
CONOCOPHILLIPS SELLS FLYING J PARTNERSHIP TO PILOT
HOUSTON, TX. — ConocoPhillips has sold its 50 percent partnership interest in the CFJ Properties - Flying J Truck Stops to Pilot Travel Centers for $626 million.
As part of the deal, ConocoPhillips has agreed to a long-term product supply deal with Pilot.
"We're pleased to conclude this transaction and to have a long-term fuel supply relationship with Pilot, which affords ConocoPhillips the ability to provide an outlet for ConocoPhillips' gasoline and diesel production," stated Willie Chiang, senior vice president, Refining, Marketing and Transportation for the major oil company.
ConocoPhillips officials noted that the deal was part of the company strategy currently underway to divest $10 billion of its assets.
UNEV PIPELINE, TERMINALS IN CONSTRUCTION
DALLAS, TX. — Holly Corp. and Sinclair Transportation have announced that the has begun building the final phase of the UNEV pipeline.
The companies have received approval for the pipeline from the Bureau of Land Management and construction for five of the seven necessary areas and construction has begun. The companies expect the last two approvals to be received from the BLM before the end of the year.
When completed, the UNEV pipeline will run 406 miles to transport refined products from Salt Lake City, Utah to terminals in Cedar City, Utah, and Las Vegas, Nevada. It is expected that the pipeline will be in service in 2011.
In addition, construction of the Cedar City and Las Vegas terminals is underway and the officials said new the facilities are nearing completion.
"We are pleased to enter our last phase of construction on this pipeline project," said Matt Clifton, Holly CEO and chairman. "This is a valuable and important infrastructure project which will provide for the long-term cost effective supply of transportation fuels to southwest Utah and Las Vegas."
Originally published in the September 2010 issue of O&A Marketing News.
Copyright 2010 by KAL Publications Inc.
Serving the 13 Western States, the World's Largest Gasoline, Oil, Fuel, TBA and Automotive Service Market