Photo Highlights
Want to order a photo from the issue?
Click here for more information about .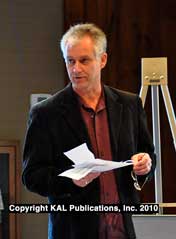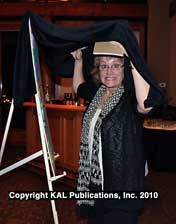 Pacific Oil Conference Reconvened Board Meeting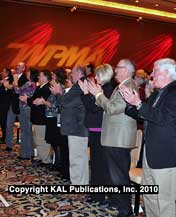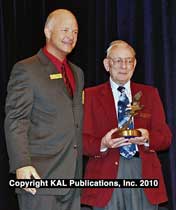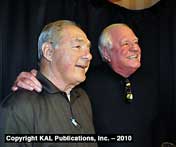 Western Petroleum Marketers Association Convention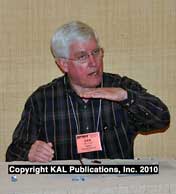 PMAA Western Regional Meeting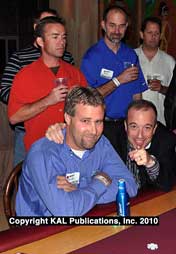 Western Petroleum Poker Tournament
Want to see the photos that didn't make the issue? Check out the .
Arizona Quits Cap and Trade Program
QuikTrip Opens Second Tucson Location
Chevron to Cut 2,000 Downstream Jobs
Riverside Dealer Wins $50 Million in Damages From Shell
SC Fuels Completes Acquisition of United Fuel
Pacific Ethanol Reopens Idaho Plant
ARIZONA QUITS CAP AND TRADE PROGRAM
PHOENIX, AZ. — The State of Arizona has quit The Western Climate Initiative, a multi-state coalition to launch a cap-and-trade system, saying the costs of the program would be too high.
In an Executive Order issued in February, Arizona Governor Jan Brewer said a cap-and-trade system — which would impose mandatory caps on emissions and allow pollution credits to be traded among companies — would "cripple Arizona's economy."
The Western Climate Initiative is made up of seven Western states — Arizona, California, Montana, New Mexico, Oregon, Utah and Washington — and four Canadian provinces. Its regional cap-and-trade program is set to begin in 2012 in California with the opening of the state's pollution credit marketplace. The group is seeking to regulate 90% of the greenhouse gasses emitted in the states and achieve a 15% reduction of emissions in the next 10 years.
As one of the founding members of the Western Climate Initiative, Arizona will remain a member of the group and plans to maintain its voting status in the WCI.
As part of the Executive Order, Brewer directed state officials to work to expand the use of renewable energy sources, including solar and nuclear power.
"The Governor believes that Arizona can become the solar powerhouse of the nation," said Benjamin Grumbles, head of the Arizona Department of Environmental Quality. "So we are absolutely committed to advancing the solar industry, as well as wind and geothermal." He added, ""Green and grow is our approach now."
QUIKTRIP OPENS SECOND TUCSON LOCATION
TUCSON, AZ. — QuikTrip has opened its second store it Tucson, AZ., one of several the c-store chain has planned for area.
The store, located at 5151 E. Speedway, opened in February. The location includes 16 dispensers and a 5,000 square foot convenience store.
QuikTrip currently has three other locations in Tucson under construction. Two of the sites, located at East 29th Street at South Craycroft Road and at 1250 S. Pantano Road, are scheduled to be opened in May. The third site, located at 1925 N. Kolb Road, is scheduled to be completed in July.
Local reporters also disclosed that the company has recently purchased real estate to build another store near West Grant Road and Interstate 10.
This would bring the total of QuikTrip stations in thearea to six, all ground-up new locations in the Tucson market.
CHEVRON TO CUT 2,000 DOWNSTREAM JOBS
SAN RAMON, CA. — Chevron Corporation announced in March that it plans to cut 2,000 from its downstream operations this year, approximately 12% of the division's staff.
Chevron officials said they will "improve returns by aggressively lowering costs, exiting markets and streamlining the organization."
The cuts will come from both domestic and international operations for the major oil company. In addition to firing workers, Chevron said they will look to sell some of their operations in Europe, Central America, and the Caribbean as well as "review" their operations in Hawaii and Africa.
"Downstream market conditions are likely to be difficult for the next several years. We intend to further concentrate our downstream portfolio in North America and Asia-Pacific," said Mike Wirth, executive vice president, Global Downstream for Chevron, explaining the cuts. "These are markets in which we have our greatest competitive strength. We are also rapidly and aggressively lowering costs, reducing capital spending, improving efficiency and simplifying our organization."
RIVERSIDE DEALER WINS $50 MILLION IN DAMAGES FROM SHELL
LOS ANGELES, CA. — A Los Angeles Superior Court jury has awarded $50 million in damages to a service station dealer who alleged that Shell Oil Products had "intentionally concealed important facts" during negotiations to buy his service station in 2003.
The plaintiff in the case was Elias Atallah, a dealer in Riverside County of Southern California, who had been operating a Shell-branded service station as a franchisee for 10 years. Atallah wanted to buy his station from Equilon, the owner of the station which, at the time, was divesting its service stations in the area. Atallah sued the major oil company under the PMPA and won the right to buy the station he had been operating.
However, in this lawsuit, Atallah's attorney's claimed that while Atallah was negotiating to buy the station Shell officials withheld information about the condition of the property from the dealer. "Shell learned that both Plaintiff's station and another station Shell owned across the street were about to become the target of costly protections and safeguards being demanded by state agencies," said William Gwire of Gwire Law Offices in San Francisco, CA., which represented Atallah. Gwire alleged that Shell knew the service station was out of compliance with environmental regulations, that it would cost a large amount of money to come into compliance, and they did not share this information with the dealer.
In the lawsuit, Gwire stated Shell executives and employees involved in the sale (and through an extended escrow) withheld critical information from Atallah, including meetings that Shell representatives attended in which the agencies outlined their demands for extensive and expensive contingency plans, containment systems and indemnity agreements. "During this entire period, which spanned almost 10 months, Mr. Atallah and his attorney were kept in the dark."
Atallah closed escrow on the station and then was given the list of environmental and equipment issues associated with bringing the station into compliance with California state and local regulations. He was never able to afford to reopen the site as a gasoline station because of the huge cost of compliance.
In 2005, Atallah filed a suit against Equilon/Shell Oil Products U.S. alleging fraud in the selling process.
In 2006, a Los Angeles Superior Court jury found Shell guilty of intentional fraud and concealment, awarding Atallah $1.65 million in compensatory damages. The jury also found that Shell had acted with "oppression, malice or fraud," which would allow a jury to award punitive damages. At that time however, the trial judge ruled the evidence being offered to establish Equilon's financial condition was insufficient, and refused to allow the punitive damage issue to go to the jury.
Both parties appealed the 2006 decision. Shell appealed the $1.65 million compensatory damages verdict while Atallah appealed the judge's decision to limit punitive damages.
In 2008, the California Court of Appeals upheld Atallah's $1.65 million compensatory damage verdict and also decided that the trial judge had been premature in dismissing the punitive damage claim, ruling that the plaintiff could seek punitive damages.
In March, after less than two days of deliberation, a jury ruled in favor of $50 million in punitive damages to Atallah from Equilon Enterprise/Shell Oil Products.
The jury verdict is currently being reviewed by the trial judge.
SC FUELS COMPLETES ACQUISITION OF UNITED FUEL
ORANGE, CA. — Southern Counties Oil Co., based here, has completed its acquisition of United Fuel and Energy Corp, formerly of Midland, TX.
United Oil is now operating as a wholly-owned subsidiary of SC Fuels under the name of Goldstream, Inc.
The shares of common stock of United Fuel have ceased trading on the Pink OTC Markets and have been converted into the right to receive $0.30 per share in cash.
"This is a great opportunity for United Fuel shareholders," said Frank Greinke, chairman and chief executive officer of United Fuel and president of Goldstream. "We believe United Fuel investors will see our tender offer as the best way to maximize the value of their investment in United Fuel."
As the Goldstream division, the former United Fuel will continue its existing gasoline, diesel, and lube distribution operations in Texas, New Mexico, Arizona, Oklahoma, and California.
PACIFIC ETHANOL REOPENS IDAHO PLANT
BURLEY, ID. — Pacific Ethanol, Inc. has resumed production at its 60 million gallon per year Magic Valley facility located here.
Pacific Ethanol had shuttered the ethanol plant in February 2009 after the declining price of ethanol and the rising expense of feedstock led to losses from producing the alternative fuel.
Because of the unfavorable market conditions, Sacramento, CA.-based Pacific Ethanol filed for Chapter 11 bankruptcy protection to restructure its debt. Although Pacific Ethanol is still in bankruptcy proceedings, the company received court approval to restart operations in Idaho in January.
Originally published in the April 2010 issue of O&A Marketing News.
Copyright 2010 by KAL Publications Inc.
Serving the 13 Western States, the World's Largest Gasoline, Oil, Fuel, TBA and Automotive Service Market