LOOKING FOR A "COVER" CAR?
Past issue highlights include pictures from the cover and the "editor's choice" pictures from inside the issue.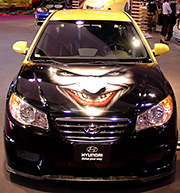 Eagle Automotive Acquired By Atlantis Holding
Dana To Sell Hard Parts Business
Pull'R Holdings Files Chapter 11
Hybrid Sales Will Rise 268% Says J.D. Power
How People Really Pick Mechanics
Covering the California auto parts aftermarket since 1928.