Photo Highlights
November 2005 Cover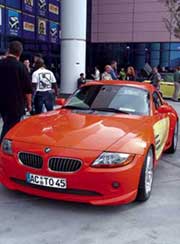 Editor's Choice:
SEMA Show (2004)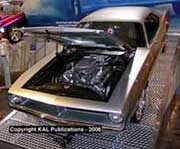 Want to order a photo from the issue? Click here for more information about .
Power Stop Line Acquired by Execs
Chrysler Sells Over 300,000 Hemis
Nissan Plans to Simplify Parts
Ford Settles Patent Infringement Suit
Parts Buying On-Line Growing Slowly
DIY Market Is Not Dying Off Says AAIA
POWER STOP LINE ACQUIRED BY EXECS
A group of former Autospecialty executives has purchased the Power Stop line of performance brake products for an undisclosed amount.
Included in the deal is the product line, the brand, the part numbering system, and cataloging rights.
The group has formed a new company which will be called Power Stop LLC. They will move into a 30,000 square foot headquarters in Bedford Park, IL., and will continue to manufacture performance friction, rotors, and brakes under the Power Stop, Evolution, and Autospecialty lines.
CHRYSLER SELLS OVER 300,000 HEMIS
Reflecting consumer demand for increased power in their vehicles, Chrysler reports that sales of its Hemi engine have crossed over 300,000 units.
The V-8 Hemi engine was introduced in the 2003 model year and Chrysler says that on average 46% of customers choose the 5.7 liter Hemi engine when it is available for their vehicle.
The most popular model for the Hemi engine is the Dodge Durango; 54% of customers chose the Hemi.
NISSAN PLANS TO SIMPLIFY PARTS
Nissan Motor Company has announced that they plan to create simpler parts to improve quality, officials said.
The plan would start at the design phase to make the parts easier to manufacture as well as eliminate steps such as having to mold pieces into parts on the assembly line.
Nissan officials say their plan to simplify their parts could increase productivity as well as increase the quality of their vehicles.
FORD SETTLES PATENT INFRINGEMENT SUIT
Ford has settled a patent infringement lawsuit filed against its 2005 Mustang; the terms of the settlement were not disclosed.
Inventor — and attorney — Frank Weyer had filed suit against the automaker claiming that the "MyColor" option in the 2005 Mustang, which allows the driver to change the color of the instrument panel lighting, infringed on Weyer's existing patent.
Weyer said that he had sent a copy of the patent to Ford in December 1999 but had received no response from the automaker.
As part of the settlement, Ford agreed to license Weyer's invention in the Mustang.
Weyer, who owns a 1969 Mustang, said that he was "pleasantly surprised to find out that Ford has a corporate policy of respecting third party's valid patent and other intellectual property rights."
PARTS BUYING ON-LINE GROWING SLOWLY
Roughly 72.7% of repair shops expect their level of online parts purchasing to increase this year, according to a new market research report published by the Automotive Aftermarket Industry Association.
While growing, the AAIA found the overall level of online parts purchasing accounts for less than 20% of overall buying, compared with 80% through traditional channels. Foreign vehicle-focused shops generally purchased larger percentages of their parts online than domestic vehicle-focused shops.
Typically, domestic vehicle-focused shops purchase between one and 10% of their parts online. Foreign vehicle-focused shops purchase approximately 21% to 30% of their parts online.
DIY MARKET IS NOT DYING OFF SAYS AAIA
The Do-it-Yourself (DIY) segment of the automotive aftermarket is not dying out according to a new market research study by the Automotive Aftermarket Industry Association (AAIA).
The study, recently released by the AAIA, found that 70% of U.S. households have someone who has personally performed vehicle maintenance or repair in the last year.
The report also found that 62 % of DIYers are doing the same amount of work or more work than they did five years ago. The other 38% said they were doing less repair work because repairs are more complicated, they own newer vehicles, they're too old or have less time.
The primary reason DIYers gave for doing maintenance and repair themselves was to save money.
The majority of consumers surveyed (88.5%) indicated that they had some type of professional service done on their vehicles in the past 12 months.
Quality of service and trust were the top criteria for selecting a service provider, with the cost factor ranking seventh.
The complete report, "The Aftermarket Consumer: DIY or DIFM," is available to AAIA members for $295 and to non-members for $795. For more information or to order a copy, contact AAIA at 301-654-6664, or visit www.aftermarket.org.
Originally published in the November 2005 issue of Automotive Booster Magazine.
Copyright 2005 by KAL Publications Inc.
Covering the California auto parts aftermarket since 1928.