Photo Highlights
August 2005 Cover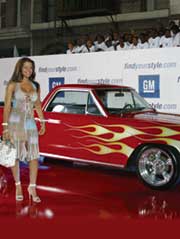 Editor's Choices:
GM All-Car Showdown

Hanson Distributing Customer Appreciation Picnic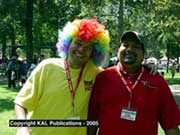 Want to order a photo from the issue? Click here for more information about .
KEM Manufacturing to be Acquired
CSK Diversifies Into Home Retail
Growth In High Mileage Oil Predicted
SkillsUSA Names California Winners
KEM MANUFACTURING TO BE ACQUIRED
KEM Manufacturing has signed an agreement to be acquired by a private equity investor group, Jordelle Partners, LLC. The purchase price for the automotive parts manufacturer was not disclosed.
Under the terms of the deal, signed on June 30, KEM Manufacturing will do business as KEMPARTS. All of the company's existing management and operations are expected to remain in place.
"This capital infusion will strengthen KEM, enabling us to restore service levels to our previous high standards and seek strategic acquisitions/alliances to focus our marketing efforts of delivering OE Match parts to the aftermarket," said KEM President Richard Brown, announcing the deal. "Our initial plans will concentrate on building inventory, elevating order fill and bringing all credits current. We will now have the resources we need to regain the status of being the best supplier you do business with."
It is expected the sale will be completed by the end of August.
CSK DIVERSIFIES INTO HOME RETAIL
CSK Auto Corp., the parent company of Kragen, Checker, and Shuck's auto part stores, is diversifying into a new realm of retail.
The Phoenix-based company has begun opening Pay N Save stores in Arizona. The retail shops focus on the home-and-garden category and include items such as treadmills, fishing gear, furniture, toys, generators, and lawn equipment.
Aarin Centner, a 10-year veteran with CSK and now serving as Pay N Save's district manager, told local reporters that the Pay N Save stores are like a "mini Costco meets a tool store meets a Michael's" craft store.
Centner added, "We have a team of buyers, including a buyer in China, and we are good importers."
CSK officials say the company plans to have 10 of the Pay N Save stores open in Arizona by the end of the year and then begin rolling out the concept across the country. Three stores are currently open in the greater Phoenix area and a fourth is scheduled to open in north Phoenix in August.
CSK currently owns and operates 1,130 auto parts stores in 20 states.
GROWTH IN HIGH MILEAGE OIL PREDICTED
Demand for "specially formulated" motor oils for high mileage vehicles will continue to grow as consumers look to keep older vehicles running smoothly, according to recent data from The NPD Group's Aftermarket Industry Monitor.
The study found high mileage motor oils now account for 10 percent of all motor oil sold in auto parts stores. Through the second quarter of 2004, dollar sales for this segment have increased 25% versus a year ago and 83% since 2002.
Although motor oil consumers are becoming increasingly price conscious, high mileage oils retail at a price that is almost 50% higher — 78 cents per quart on average — than conventional motor oils.
SKILLSUSA NAMES CALIFORNIA WINNERS
The California SkillsUSA 2005 state competition winners have been selected from among the hundreds of students participating in the contests.
Secondary school winners were: Gold Medalist Travis Bertrand, Lassen Tech Institute, Marysville, CA., instructed by John Crosby; Silver Medalist Garrett Raines, Ramona High School, Ramona, CA., instructed by Mike Jordan; and Bronze Medalist Brian Connolly, also representing Ramona High School.
Post-secondary school winners were: Gold Medalist Matt Funkhouser of Ramona High School; Silver Medalist Paul Manley of Ramona High School; and Bronze Medalist John Fulmer, American River College, Sacramento, CA., instructed by John Burkes.
The SkillsUSA Program encourages technical learning and promotes aftermarket skills for students and is one of the official charities of the Los Angeles Booster Club.
Originally published in the August/September 2005 issue of Automotive Booster Magazine.
Copyright 2005 by KAL Publications Inc.
Covering the California auto parts aftermarket since 1928.