Photo Highlights
June 2005 Cover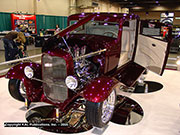 Editor's Choices:
Grand National Roadster Show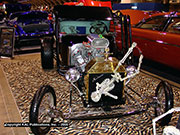 B-20 Booster All-Industry Charity Golf Tournament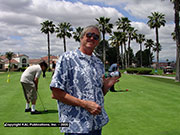 Want to order a photo from the issue? Click here for more information about .
Accuride to Acquire TTI
Valvoline to Acquire Car Brite
Octagon Acquires Manik Motors
New CR-Vs Catch Fire After Oil Change

ACCURIDE TO ACQUIRE TTI
Accuride Corporation has signed a deal to acquire Transportation Technologies Industries (TTI), one of the largest manufacturers of medium-duty and heavy-duty truck components. The price of the deal was not disclosed but does include stock transfer and the acceptance of TTI's debt.
Accuride President Terry Keating will continue to serve as president and CEO of the combined company which is expected to become a leading supplier to the medium and heavy-duty trucking industry.
"Going forward, the combined company has the potential to be even stronger than its parts are today," said Keating. "Accuride and TTI are leading brand names in the industry, with solid reputations. We expect that this merger will lead to increased strategic opportunities to grow our business that will benefit customers, employees, suppliers, and the communities in which we do business."
VALVOLINE TO ACQUIRE CAR BRITE
Valvoline has signed an agreement to purchase Car Brite from E&A Industries of Indianapolis in a cash transaction. The purchase price was not disclosed.
Car Brite manufactures interior and exterior cleaners, paint restorers and protectants, detail dressings, paints and dyes. The company's products are sold through a dedicated network of more than 100 distributors.
"Car Brite is a premium brand that has earned a great reputation with auto and recreational vehicle dealerships, auto auctions, detail shops and car washes," said Samuel Mitchell, Valvoline president, announcing the deal. "This acquisition will help Valvoline expand its customer base and help us achieve our aggressive growth plans."
Valvoline is a division of Ashland Inc.
OCTAGON ACQUIRES MANIK MOTORS
Octagon Holdings, LLC, a privately held international acquisition and management company, has acquired Manik Motors of Valencia. Terms of the acquisition were not disclosed.
Manik, which manufacturers and markets tubular steel off-road accessories, will operate from two locations: a 100,000 square foot manufacturing facility in Mexicali, Mexico and its 11,000 square foot office and research and development facility in Valencia.
Announcing the deal, Jeffrey Crevoiserat, founder of Octagon, said, "The acquisition of Manik provides an exciting opportunity for Octagon. We are confident that the business has significant potential, and we look forward to providing the leadership and resources required to create and sustain a dynamic and market leading enterprise."
NEW CR-VS CATCH FIRE AFTER OIL CHANGE
Honda CR-V owners have reported that their new vehicles have caught fire after what should be routine oil changes.
The National Highway Traffic Safety Administration confirms that 20 people have reported fires on 2004 model CR-Vs with another five owners reporting oil leaks and smoke from the vehicle. Honda Motor Co. also has identified another 22 fires in 2003 model CR-Vs.
No injuries have been reported, but several close calls have occurred where people have exited the vehicle shortly before it was consumed in flames.
Honda officials say the problem has occurred because technicians have improperly replaced oil filters during the first oil change. The rubber gasket inside the rim of the car's factory-installed oil filter sometimes sticks to the engine block and when a new filter is installed over it, the stacked gaskets fail to seal properly. The oil leaks out and sprays onto the vehicle's hot manifold, catching fire.
Originally published in the June/July 2005 issue of Automotive Booster Magazine.
Copyright 2005 by KAL Publications Inc.
Covering the California auto parts aftermarket since 1928.