Photo Highlights
April 2005 Cover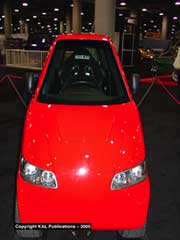 Editor's Choices:
L.A. Auto Show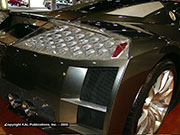 Want to order a photo from the issue? Click here for more information about .
Help Restore A Camaro For a Soldier's Family
Tenneco Acquires Exhaust Manufacturer
Pep Boys Reorganizes Staff
Aftermarket Awareness Day Coming to Nevada
Dura Enters Joint Venture For China
Problem Solving Course Offered

HELP RESTORE A CAMARO FOR A SOLDIER'S FAMILY
The automotive aftermarket is stepping up to help the family of a fallen soldier restore a 1968 Colton Camaro.
The assistance project is being spearheaded by the Automotive Restoration Market Organization. The restoration of the Camaro was originally a project of a soldier and his son. The father was sent to war and killed in action.
In his memory, ARMO members are stepping forward to help the son complete the car. They are asking for parts and supplies from members of the automotive aftermarket to assist in this worthy cause.
For more information or to participate in the restoration contact Alex Tainsh at atainsh@soffseal.com or (513) 367-0028.
TENNECO ACQUIRES EXHAUST MANUFACTURER
Tenneco Automotive has acquired the assets of motorcycle exhaust manufacturer Gabilan Manufacturing Inc., of Salinas. The purchase price of the deal was $10 million.
Gabilan specializes in the exhaust systems and mufflers utilized by Harley-Davidson motorcycles since 1978. The company, which had $38 million in revenues in 2004, also manufactures aftermarket muffler kits for Harley-Davidson.
As part of the deal, Tenneco signed a long-term agreement with Harley-Davidson to continue to supply their parts.
"We are very excited to add the Gabilan Manufacturing operations to the Tenneco Automotive team," said Mark Frissora, chairman and CEO of Tenneco Automotive, announcing the deal. "This acquisition is the first in our company's five-year history and represents another execution of our consistent strategy to grow through niche opportunities.
"We are looking forward to further aligning with Harley-Davidson," he continued, "a company that possesses one of the world's most recognized brands and an incredible success story punctuated by 19 consecutive years of compounded annual growth."
Excluded from the deal were the Gabilan name or the Gabilan real estate in Salinas. Tenneco will lease the Salinas facility for its manufacturing needs.
PEP BOYS REORGANIZES STAFF
Pep Boys has announced that they will be restructuring their organization into separate Retail and Service divisions.
Under the existing systems, service technicians reported to a store manager. Under the new system, stores will have both a retail manager and a service manager; retail employees will report to the retail manager and service technicians will report to a service manager.
The new structure will continue up the chain of command, with parallel area directors and divisional vice presidents who will oversee either the service or retail part of the Pep Boys business.
Mark Page, who was serving as senior vice president of store operations will become the senior vice president of service operations, leading the service side of the Pep Boys business.
The company says they are "currently recruiting" a new senior vice president of retail operations to lead that division.
Both senior vice presidents will report to Pep Boys Chairman and CEO Larry Stevenson.
Announcing the changes, Stevenson said, "We continue to take steps to improve our service and tire business." He predicted that the change "will also allow us to hire and train to more common industry skill sets."
Pep Boys predicts that the restructuring will be invisible to customers but will result in an operating cost increase of $1-2 million per year.
AFTERMARKET AWARENESS DAY COMING TO NEVADA
The California/Nevada Automotive Wholesalers Association has scheduled a "Nevada Automotive Aftermarket Awareness Day" on Tuesday, April 5 in Carson City.
The event, held in conjunction with national "Be Car Care Aware" month, will include visits to members of the Nevada legislature, a luncheon, and a public relations display to promote the "Be Car Care Aware" message to motorists.
For more information on the event or to participate contact Jennifer Zins at (916) 871-0603.
DURA ENTERS JOINT VENTURE FOR CHINA
Dura Automotive Systems, Inc. has entered into a joint venture agreement with Shanghai Ganxiang Automotive Mirror Group Co., Ltd. (GAM) to develop, manufacture and sell automotive gear shifter systems for the domestic Chinese market.
The new joint venture company will conduct business under the name Dura GANXIANG Automotive Systems (Shanghai) Co., Ltd. It is majority owned and controlled by Dura, and the board of directors will be comprised of Dura and GAM executives.
"Establishing a manufacturing foothold in Asia for all Dura products is a key piece of our global growth strategy and further enhances our multi-geographic flexibility," said Larry Denton, Dura Automotive's chief executive officer, announcing the deal. "The Dura GANXIANG joint venture opens significant growth opportunities for us in China's fast-growing shifter systems market."
China's domestic market for automotive gear shifter systems is predicted to grow from $150 million today to nearly $300 million by 2009.
The joint venture is subject to final business license approvals.
PROBLEM SOLVING COURSE OFFERED
The California/Nevada Automotive Wholesalers Association has set up an education course, "Performance Problem Solving for Aftermarket Professionals" in conjunction with the Community College of Southern Nevada.
The class will focus on "how to solve problems that undercut performance of individuals. Participants will learn to diagnose the causes of performance problems and how to respond with effective solutions. Topics include: communicate with clarity, solve problems, motivate effectively, deal with anger, prevent resistance, involve employees, give recognition and set clear follow-up to solve performance problems."
Designed for the aftermarket, the five-week class will be held at the Community College offices in Henderson, NV., beginning April 20. The fee for the course is $325 per participant for NAWA members and $525 for non-members. Discounts are available for multiple participants from one company.
Space is limited to the first 24 students and registration closes on April 13.
For more information, contact the California/Nevada Automotive Wholesalers Association at (800) 332-2292.
Originally published in the April/May 2005 issue of Automotive Booster Magazine.
Copyright 2005 by KAL Publications Inc.
Covering the California auto parts aftermarket since 1928.