Photo Highlights
February 2005 Cover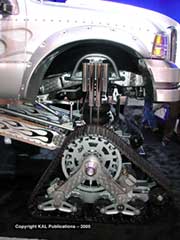 Editor's Choices:
California-Nevada Automotive Wholesalers Association Dinner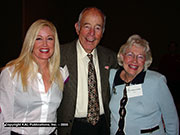 B-20 Salvin School Christmas Visit
Want to order a photo from the issue? Click here for more information about .
Parts Plus, IAPA Merge Operations
Keystone Ends Some Headlamp Sales
Carroll Shelby Sued By Filmmaker


PARTS PLUS, IAPA MERGE OPERATIONS
Two of the larger buying groups in the automotive aftermarket, Parts Plus and Independent Auto Parts of America (IAPA), have merged to form the Automotive Distribution Network (ADN).
The effective date of the merger was January 1.
The combined network consists of 51 members, 242 Warehouse Distributor locations and over $2 billion in annual sales. Both groups will retain their marketing programs and private label brands.
Mike Lambert, former executive of Parts Plus, and Mike Kamal, former executive of IAPA, will serve as co-presidents of the new organization which will be headquartered in Memphis.
Mark Bond of Quality Automotive Warehouse, Baltimore, MD., and Stephen Sattinger of Merle's Automotive in Tucson, AZ., are the co-chairmen of ADN.
"This merger of these two great organizations is very exciting for us and will make the network among the elite distributor organizations in North America," said Sattinger, announcing the merger. "Our 51 proud member companies are anticipating great opportunities."
KEYSTONE ENDS SOME HEADLAMP SALES
Keystone Automotive Industries suspended sales of aftermarket headlamps for the Ford Taurus and Pontiac Grand Am in November due to concerns that the products did not meet Federal standards.
After releasing independent test results on the aftermarket parts, Keystone said that six insurance companies also have suspended use of the headlamps in approved repairs.
The headlamps involved are for Taurus model years 1996-2004 and Grand Am model years 1999-2004.
Keystone officials said that their finances have not been substantially hurt by the action as the Taurus and Grand Am part numbers make up less than 1% of the company's sales.
CARROLL SHELBY SUED BY FILMMAKER
Denice Halicki has filed suit against custom automaker Carroll Shelby to stop him from branding and marketing his line of retrofitted Ford Mustangs with the name "Eleanor."
Halicki is the CEO of Halicki Firms and claims that she and her husband, the late filmmaker H.B. "Toby" Halicki, were the first to use the name "Eleanor" in conjunction with a vehicle; they did so in their movie, Gone in 60 Seconds. In her suit, Halicki claims that Shelby has no right to market Eleanor-branded vehicles or merchandise without her permission.
The lawsuit was filed in October for copyright and trademark infringement against Carroll Shelby, Carroll Shelby International Inc., Carroll Hall Shelby Trust, Sanderson Sales & Marketing, and Unique Performance Inc.
While Halicki claims she is the "first and prior user of the Eleanor mark," Carroll Hall Shelby Trust registered the Eleanor trademark with the U.S. Patent and Trademark office in 2004 for vehicles, engines, structural parts for automobiles, and toys.
Originally published in the February/March 2005 issue of Automotive Booster Magazine.
Copyright 2005 by KAL Publications Inc.
Covering the California auto parts aftermarket since 1928.