Photo Highlights
April 2003 Cover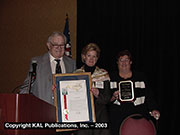 Editor's Choice:
L.A. Auto Show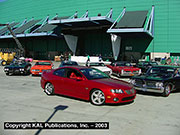 Automotive Aftermarket Legislative Coalition Day at the Capitol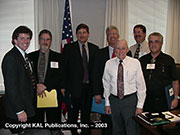 Want to order a photo from the issue? Click here for more information about .
Auto Parts Wholesale to Merge with GPI
Antifreeze Must Taste Bitter
NHTSA Seeks Comments on Rearview Mirrors
Quality Most Important When Looking for Service
AUTO PARTS WHOLESALE TO MERGE WITH GPI
Auto Parts Wholesale, the auto parts warehouse and parts store chain based in Bakersfield, is merging with auto parts giant GPI.
Both GPI and Auto Parts Wholesale are part of the Carquest distribution network.
"We have just come off one of our best years ever," said Mike McMurtrey of APW. "But we wanted to take Carquest to the next level in California and we needed the resources of GPI to take it where the McMurtrey family wanted it to be." He continued, "they are advanced in electronics and in paperless warehouse operations. It's an exciting time for Carquest in California and Nevada."
Included in the deal are APW's 58 parts stores and seven distribution centers operating in California. They will join GPI's 1,300 stores and 34 distribution centers operating across the United States.
"It's going to be a seamless transition because they're already the largest participant in Carquest," added McMurtrey.
Auto Parts Wholesale staff will be included in the merger and continue in their present positions — with one major difference, according to Mike McMurtrey.
"The McMurtreys are very excited by the fact that our employees will now be part of the GPI stock program. All the employees will have ownership in the company."
In addition, under the GPI model, each of the parts stores becomes its own separate corporation with its own operations and profit-sharing potential. McMurtrey explained that "GPI owns 75% of the stores. The other 25% of each store is owned by the store managers and salespeople. This way, the store management and salespeople can participate in the store as part-owners.
"We view this as a great opportunity for our employees to have ownership."
With the merger of Auto Parts Wholesale and GPI, O. Temple Sloan II will remain CEO of the company and O. Temple Sloan III will remain president. Jon McMurtrey, the president of Auto Parts Wholesale, will serve as a consultant and be a member of the GPI Board of Directors.
Mike McMurtrey will serve as the Northern California sales and acquisition manager for GPI. Jim McMurtrey will serve as Bakersfield operations manager and Darryl Holmes will serve as San Diego operations manager. Pat Winters will serve as sales manager for California for the joint venture stores.
John McMurtrey will be moving his family to GPI headquarters in Raleigh, NC., "where he will teach GPI the retail business," said Mike McMurtrey. "Until this point, only a small percentage of their business has been in retail, so John is going to help with that business."
The merger between the two companies is scheduled to be complete April 1.
ANTIFREEZE MUST TASTE BITTER
All anti-freeze and engine coolant products sold in California must have a bittering agent included in their formulation, according to a new state law.
Under the terms of the law, any product containing more than 10% ethylene glycol must have a bittering agent; denatonium benzoate at 30 parts per million is recommended by the state. If a manufacturer chooses to use any other bittering agent, they need to keep records of the chemical used, its scientific name, active ingredient, and the trade name of the product.
The law also exempts manufacturers and packagers of anti-freeze and engine coolant from liability brought about because of the bittering agent's use in the product.
The state is requiring the bittering agent in the chemical to discourage children, pets, and other animals from drinking the chemicals.
NHTSA SEEKS COMMENTS ON REARVIEW MIRRORS
The National Highway Traffic Safety Administration is looking for public comments on rearview mirrors.
The Federal agency is looking for suggestions on how to modify Federal Motor Vehicle Safety Standard (FMVSS) No. 111, Rearview Mirrors. Comments on new mirror technology (such as rearview video monitoring), enhanced viewing, or innovative mirror placement are encouraged.
The NHTSA is looking for comments from auto parts designers, installers, and other industry professionals involved in new rear view mirror development.
For more information or to submit comments, contact the NHTSA via its website at www.access.gpo.gov/su_docs/fedreg/a030122c.html.
QUALITY MOST IMPORTANT WHEN LOOKING FOR SERVICE
Quality of service is the most important factor for consumers looking for a place to have their vehicles repaired.
According to an analysis by Frost & Sullivan, North American Automotive Maintenance Service Market, "Quality is the number one factor affecting consumers' choice of where to get their car serviced," says Frost & Sullivan's Joerg Dittmer.
Consumer preference for quality is reflected in the increased use of specialty stores for service. Customers believe these outlets perform more efficient and accurate work than they could do on their own. Specialty chains have developed brand awareness, and with it, customer expectations of quality.
Because of this, aftermarket professionals are encouraged to promote quality and convenience instead of dropping prices to attract customers.
Originally published in the April/May 2003 issue of Automotive Booster Magazine.
Copyright 2003 by KAL Publications Inc.
Covering the California auto parts aftermarket since 1928.