Photo Highlights
February 2003 Cover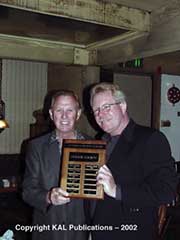 Editor's Choices:
B-20 Holiday Dinner and Installation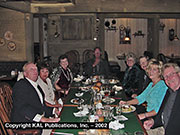 B-20 Salvin School Christmas Visit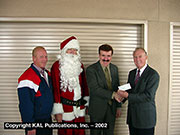 Want to order a photo from the issue? Click here for more information about .
Ken-Tool Acquires Carica Tools
Keystone Acquires Advance Bumper and Body Parts

KEN-TOOL ACQUIRES CARICA TOOLS
Ken-Tool has acquired Carica, the specialty automotive tool manufacturer based in Phoenix, AZ. The purchase price was not disclosed.
Carica's line includes magnetic pickup tools, inspection mirrors, hooks and pickup sets, and air blowguns.
The acquisition provides Ken-Tool "a continuing opportunity to expand its specialty tool product offering," according to the official announcement.
KEYSTONE ACQUIRES ADVANCE BUMPER AND BODY PARTS
Keystone Automotive Industries Inc. is continuing its expansion, acquiring Advance Bumper and Body Parts of Springfield, MO. Terms of the deal, which was announced in January, were not disclosed.
Keystone President Charles Hogarty said the company will consolidate Advance's operations with Keystone's existing Springfield facilities. Keystone is based in Pomona.
"The acquisition complements our existing Missouri operations and will allow Keystone to expand Advance's product line by adding remanufactured wheels, recycled bumpers and body shop supplies," said Hogarty.
Originally published in the February/March 2003 issue of Automotive Booster Magazine.
Copyright 2003 by KAL Publications Inc.
Covering the California auto parts aftermarket since 1928.