Photo Highlights
December 2002 Cover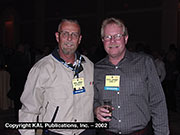 Editor's Choice:
Automotive Aftermarket Industry Week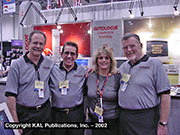 Want to order a photo from the issue? Click here for more information about .
Toyota Introduces Advantex Parts Brand
Meineke to Enter Southern California Market
Court Postpones CARB's Zero-Emissions Vehicle Mandate
Custom Wheels Gain in Popularity

TOYOTA INTRODUCES ADVANTEX PARTS BRAND
In an effort to increase its auto parts sales, Toyota Motor Corp. is introducing a new parts brand in North America: Advantex.
Advantex will market Toyota replacement parts business at a lower price than traditional Toyota-branded products. Toyota says they will keep Advantex parts "at least 40 percent cheaper than its Toyota parts."
Toyota says it is able to keep the price point lower than its branded products because the automakers is not guaranteeing quality or performance of the parts.
The Advantex parts will be manufactured by independent auto parts manufacturers and will be available to traditional aftermarket retailers.
MEINEKE TO ENTER SOUTHERN CALIFORNIA MARKET
Meineke Discount Muffler Shops plans to aggressively enter the Southern California market.
According to the company, the auto repair chain is looking to open over 150 stores throughout the Los Angeles, San Bernardino, Orange, and Ventura Counties.
Meineke currently operates one store in the territory, located in Ontario.
"By the end of the year, we want to establish a definite presence in the Los Angeles market," said Kevin Drudge, Meineke franchise development specialist. "With Los Angeles being the number one market in the country for number of vehicles on the road, it was one of the key issues that made it a good starting point for our expansion."
Drudge said that the auto repair chain will look to attract customers from dealerships and other national automotive centers such as Midas.
Although the company currently has no specific sites scheduled to open, they say they are currently looking at locations as well as franchise deals with developers.
COURT POSTPONES CARB'S ZERO-EMISSIONS VEHICLE MANDATE
The Justice Department has taken a stand against the California Air Resources Board and in favor of automakers as the two dispute CARB's clean air regulations.
In a "Friend of the Court" brief filed with the U.S. 9th Circuit Court of Appeals, the Justice Department argued that CARB's Zero-Emissions Vehicle mandate "intrudes on the federal government's exclusive authority to set fuel economy standards."
CARB passed regulations in 1990 that require the sale of motor vehicles with no emissions — basically, an electric car — if they wanted to sell traditionally-fueled vehicles in the state. Automakers spent billions of dollars to develop electric cars such as General Motors' EV-1 to meet the CARB mandate only to discover the public was not interested in buying them.
The zero-emission mandate was set to take effect in 2003.
The case is currently being heard by the Circuit Court of Appeals. In June, U.S. District Judge Robert Coyle granted an injunction against CARB's regulations, offering automakers a delay of at least two years.
The automakers had argued that CARB's mandate was illegal because it exceeded the bounds of CARB's authority. They successfully argued that CARB was regulating automotive fuel economy, an authority which rests with the Federal government, not individual states.
"This is the first time the federal government has tried to step in and tried to say no to California," said David Doniger, an attorney with the Natural Resources Defense Council in Washington observing the case.
California officials say they have "abandoned" their plans to enforce the ZEV mandate in 2003, postponing the enforcement until at least 2004.
CUSTOM WHEELS GAIN IN POPULARITY
Consumers are choosing to customize their automobiles with more aesthetically pleasing, higher performance tires and wheels. The need for style and enhanced performance has become as important to most owners as the model of their vehicle.
According to a report from Frost & Sullivan, the North American Tire and Wheel Aftermarket, this segment of the aftermarket generated revenues of $10.96 billion in 2000 and is projected to increase steadily to $15.66 billion by 2007.
"The most popular end-user groups for tire manufacturers are light truck and utility SUV owners," says Frost & Sullivan Industry Manager Meenakshi Ganjoo. "Demand for replacement and performance tires for light trucks and SUVs has surpassed that of passenger vehicles or sports cars."
This demographic group routinely upgrade tires to improve hauling or towing capabilities. Moreover, owners are commonly replacing wheels on all types of vehicles purely for aesthetic reasons.
"In a market where style is gaining significance and emerging as a major factor influencing purchasing decisions, custom wheel manufacturers are well positioned to take advantage of the trend," states Ganjoo. "Aluminum wheels are the driving force in this aftermarket segment, as the metal's malleable properties allow for the various sizes and shapes which appeal to both manufacturers and consumers."
Originally published in the December 2002/January 2003 issue of Automotive Booster Magazine.
Copyright 2002 by KAL Publications Inc.
Covering the California auto parts aftermarket since 1928.