Photo Highlights
October 2002 Cover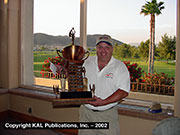 Editor's Choices:
B-20 Booster Club All-Automotive Industry Golf Jamboree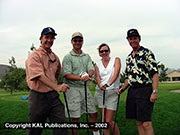 Want to order a photo from the issue? Click here for more information about .
Nissan to Offer High-Performance Aftermarket Parts Under NISMO Brand
Johnson Controls to Buy Varta Battery Business
Exide to Supply Electric Car Company

NISSAN TO OFFER HIGH-PERFORMANCE AFTERMARKET PARTS UNDER NISMO BRAND
Nissan North America, Inc. has announced it will produce and market NISMO high-performance aftermarket parts for Nissan and Infiniti vehicles in the U.S. market.
The product line will be marketed under the name NISMO parts and will be available in Fall 2002. The lines will cover three areas: performance parts for Nissan vehicles, performance parts for Infiniti vehicles, and racing parts designed for off-road and racetrack use.
The NISMO products will include a factory warranty.
The NISMO brand has been operational in Japan since 1984 as an offshoot of Nissan Motorsports but the company has not offered the products in the United States until now.
Nissan says that it will promote the line primarily to Nissan enthusiasts.
"We're excited to be joining one of the fastest growing niches in the specialty automotive equipment industry," said Jed Connelly, senior vice president of sales and marketing. "NISMO has nearly 20 years of experience developing and producing high-performance parts and accessories."
JOHNSON CONTROLS TO BUY VARTA BATTERY BUSINESS
Johnson Controls has reportedly signed a deal to buy Varta's automotive battery business. The transaction is valued at approximately $312 million.
Based in Hanover, Germany, Varta's battery division includes their own automotive battery manufacturing company, Varta Automotive GmbH, and 80% of the company VB Autobatterie GmbH.
Varta reported 2001 sales of $590 million for its battery division with 60% of sales to the aftermarket and 40% to the OEMs.
The deal, scheduled to close at the end of the year, is subject to stockholder and regulatory agency approval.
EXIDE TO SUPPLY ELECTRIC CAR COMPANY
Exide Technologies has signed a $10 million agreement to be the sole lead-acid battery supplier for the REVA (Revolutionary Electric Vehicle Alternative) car-making project in Bangalore, India.
The Exide Technologies high-performance 3ET200 lead-acid batteries will be the exclusive power source for the REVA electric car, a small vehicle designed for navigating congested, urban streets. The batteries will be manufactured in India and distributed under the Exide Technologies' Chloride Motive Power brand.
Each REVA electric car will be powered by eight 6-volt batteries. During the three-year contract, Exide Technologies will supply up to 100,000 lead-acid motive-power batteries for the project.
REVA is a joint venture between California-based AEVT and the Maini Group headquartered in Bangalore. AEVT first began developing small electric passenger vehicles in 1995 for use in India and Asia.
Originally published in the October 2002 issue of Automotive Booster Magazine.
Copyright 2002 by KAL Publications Inc.