Photo Highlights
August 2002 Cover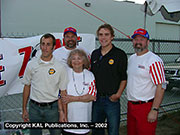 Editor's Choice:
"Meeting 2002" a joint meeting of the California Automotive Wholesalers Association, Oregon Auto Parts Association and Washington Automotive Wholesalers Association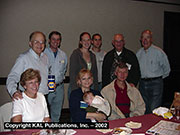 Hansen Distributing Open House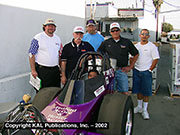 Want to order a photo from the issue? Click here for more information about .
Chinese Companies are Dumping Windshields in U.S.
Truck-Lite Acquires Signal-Stat Lighting Products

CHINESE COMPANIES ARE DUMPING WINDSHIELDS IN U.S.
The windshield industry in the United States is being damaged by Chinese companies which are "dumping" windshields in the country below costs.
An investigation into Chinese windshields began in February when Safelite, PPG Industries Inc., and Apogee Enterprises — all windshield companies operating in the U.S. — filed an anti-dumping petition with the U.S. International Trade Commission (ITC).
After examining the issue, the ITC ruled that the U.S. windshield industry is being injured by imported Chinese windshields being sold at dumped prices. The ITC has issued an antidumping duty order in an effort to restore a level playing field in the marketplace.
"Dumped Chinese imports contributed to the pricing pressures that Safelite encountered at the time it filed Chapter 11 in 2000," said Dee Uttermohlen, manager for retail at Safelite.
"But Safelite is not the only domestic producer that has been harmed by these dumped imports," he continued. "The Commission's record showed that the industry's net sales by value fell more than 13% between 1998 and 2000. Operating income fell nearly 70%. We are hopeful that the imposition of an antidumping duty order will restore fair pricing to our market and turn these declines around."
TRUCK-LITE ACQUIRES SIGNAL-STATE LIGHTING PRODUCTS
Truck-Lite Company has completed its acquisition of Signal-Stat Lighting Products, from Federal-Mogul Corporation. The price of the acquisition was not disclosed.
Included in the deal were Signal-Stat's facilities in El Paso and Brownsville, Texas, and Logansport, Indiana as well as over 300 employees.
Signal-Stat manufactures scaled and bulb-replaceable lighting, turn-signal switches, emergency lighting and vehicle safety accessories.
Signal-Stat will now be a division of Truck-Lite which is a division of Penske Transportation Components.
Originally published in the August/September 2002 issue of Automotive Booster Magazine.
Copyright 2002 by KAL Publications Inc.
Covering the California auto parts aftermarket since 1928.