Photo Highlights
June 2002 Cover

Editor's Choices:
Automotive Service Council of California Annual Convention and Trade Show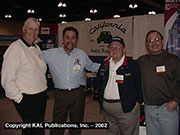 "Meeting 2002" a joint meeting of the California Automotive Wholesalers Association, Oregon Auto Parts Association and Washington Automotive Wholesalers Association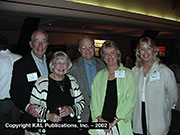 Want to order a photo from the issue? Click here for more information about .
B-43 Booster Club to Dissolve
AutoZone Sales Increase 61%
Federal-Mogul May Cut Marketing Staff
Keystone Automotive Acquires Perfect Cooling
B-43 BOOSTER CLUB TO DISSOLVE
After many years of industry service, networking and fellowship, the Capitol City Automotive Booster Club B-43 is dissolving.
Steve Baltzer, treasurer for the B-43 club explained that "I really hate to do it. As the perpetual club treasurer, I've been paying monthly bank checking account fees as well as fees to the Booster Magazine publisher for each of you to be listed as members and receive the magazine.
"These fees are not a problem except the Club has not received any paid dues for a couple of years and we're slowly running out of money."
Baltzer said that the club's remaining funds, approximately $800, will be turned over to Christmas Promise, their designated charity, or the CAWA Scholarship Fund.
AUTOZONE SALES INCREASE 61%
AutoZone Inc. has announced that its sales last quarter increased by 61%.
The auto parts retailer announced sales of $1.225 billion for its third fiscal quarter ended May 4, 2002, an increase of 11 percent from fiscal 2001. Net income for the quarter increased 61 percent to $102 million.
AutoZone announced that its same store sales — or sales for domestic auto parts stores open at least one year — increased 9.5 percent during the quarter. These totals include an 18% increase in commercial sales.
The company also reported that AutoZone stores in Mexico continue to report high same store sales increases.
Announcing the results, AutoZone chairman Steve Odland said the company "can't count on the same level of sales growth forever…but we feel pleased with the results of this quarter."
During the quarter, AutoZone opened 19 new, replaced two and closed four stores in the U.S. and opened four new stores in Mexico.
For the year-to-date, AutoZone has opened 72 new, replaced 12 and closed 39 auto parts stores in the U.S., while opening 6 new stores in Mexico.
FEDERAL-MOGUL MAY CUT MARKETING STAFF
Federal-Mogul sales staff may be facing cuts as the company looks to restructure and emerge from bankruptcy.
Frank Macher, CEO of Federal-Mogul stated that "We've got too much overhead in our supporting staff such as in sales and marketing, and we're embarking on an effort to boost engineering,"
Federal-Mogul officials said that they were planning to add approximately 100 engineers annually to help the auto parts manufacturer develop new products and increase efficiency.
Federal-Mogul filed for Chapter 11 bankruptcy in October because of pending asbestos lawsuits as well as declining parts sales.
KEYSTONE AUTOMOTIVE ACQUIRES PERFECT COOLING
Keystone Automotive Industries has acquired the radiator and condenser distribution business of Perfect Cooling Inc. The amount paid for the radiator and condenser business was not disclosed.
Based in Carson, Perfect Cooling also operated distribution centers in Atlanta, Chicago and Philadelphia. Prior to the acquisition, the company reported revenue of $8 million annually.
Announcing the deal, Keystone CEO Charles Hogarty, said that the acquisition of Perfect Cooling will strengthen his company's distribution system as well as allow Keystone access to the mechanical replacement sector, a market not currently served by Keystone.
Prior to the acquisition, Keystone distributed automotive body parts, bumpers, and remanufactured alloy wheels, paint and other material used in repairing a damaged vehicle to the repair shop market.
Originally published in the June/July 2002 issue of Automotive Booster Magazine.
Copyright 2002 by KAL Publications Inc.
Covering the California auto parts aftermarket since 1928.