Photo Highlights
April 2002 Cover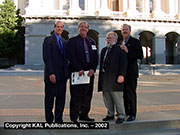 Editor's Choice:
Automotive Aftermarket Legislative Coalition Day at the Capitol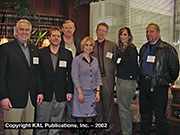 Want to order a photo from the issue? Click here for more information about .
Sears Pays $63 Million to End Battery Investigation
Ford to Restructure and Expand Parts Distribution
Dana Forms Traction Technologies Group
Two Aftermarket Leaders Make Top Dollars
SEARS PAYS $63 MILLION TO END BATTERY INVESTIGATION
Sears, Roebuck & Company has agreed to pay $63 million to end an investigation as to whether the retailer knowingly sold batteries it knew might be defective.
The investigation began after an Exide employee pled guilty to knowingly supplying Sears with inferior batteries in 1994 and 1995. Exide admitted to supplying the faulty products, attempting to cover up the defects with the product. The company also admitted paying $80,000 in "illegal gratuities" to Sears buyer Gary Marks who placed the Exide line into Sears automotive line. As part of the guilty plea, Exide agreed to pay criminal fines of $27.5 million.
The Federal investigation into Sears began as part of the Exide case. Exide claimed that Sears sold their batteries with the knowledge that some might be defective but continued to advertise and stock the products.
In court documents, Sears stated that "Exide assured Sears that the problems had been corrected. Sears also received test data provided by Exide that indicated the batteries met specifications and Sears continued its advertising program." They added, "Sears later learned that test data provided by Exide was false."
FORD TO RESTRUCTURE AND EXPAND PARTS DISTRIBUTION
Ford Motor Company has announced that it will "restructure and expand" its U.S. auto parts distribution network.
Ford will increase the number of parts distribution facilities from 10 to 21 sites across the country. The first new facility, located in Memphis, Tennessee, was scheduled to open this month. Additional distribution centers will open through 2004.
With the additional distribution centers, Ford says it will be able to ship parts daily. Under the original program, Ford dealers could only order and ship parts once a week.
DANA FORMS TRACTION TECHNOLOGIES GROUP
Dana Corporation has formed a new Traction Technologies Group, an "evolution" from its former Automotive Axle Products Group.
"This is more than a name change and a new organizational chart," said Bill Carroll, president of Dana's Automotive Systems Group, announcing the restructuring. "This is about a new era of customer focus and support. We are aligning our strategy and resources to support the development of the next-generation products and systems our customers will require."
The Traction Technologies Group will be led by Ismael Melgar, a 23-year Dana veteran who will serve as president. The group's U.S. operations consist of three segments focusing on customer satisfaction, transformation, and global strategies.
Bob Fesenmyer, a 27-year veteran at Dana, will serve as president of the group's Detroit-based, U.S. Customer Satisfaction unit. This unit will focus on sales, engineering, quality, and customer service.
The other two units will be the Transformation unit, which will focus on "applying lean manufacturing concepts within the operations," and the Global Strategies unit which will focus on advanced engineering, global customer development, marketing and communications.
TWO AFTERMARKET LEADERS MAKE TOP DOLLARS
Two automotive aftermarket leaders have made the list of the highest paid executives in Southern California.
According to the Los Angeles Times listing of the top 200 paychecks in Southern California, Garry O. Ridge of WD-40 comes in at 169th in the rankings. Ridge took home $445,000 in cash compensation.
Also making the list at 183rd was Charles J. Hogarty of Keystone Automotive Industries. Hogarty received $371,000 in compensation.
Originally published in the April/May 2002 issue of Automotive Booster Magazine.
Copyright 2002 by KAL Publications Inc.
Covering the California auto parts aftermarket since 1928.