Photo Highlights
April 2001 Cover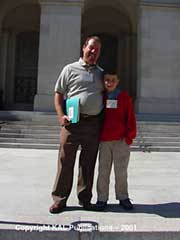 Editor's Choice:
B-43 Boosters Charity Golf Tournament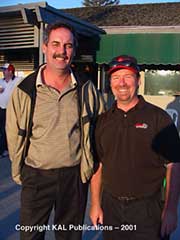 Automotive Aftermarket Legislative Coalition Day at the Capitol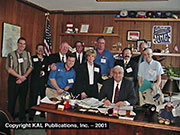 Want to order a photo from the issue? Click here for more information about .
Exide Acquires GNB Technologies, Plans Downsizing
GenCorp Acquires Draftex, Creating Largest Automotive Sealing Company in North America

EXIDE ACQUIRES GNB TECHNOLOGIES, PLANS DOWNSIZING
Exide Corporation has completed its acquisition of GNB Technologies from Pacific Dunlop Limited for $368 million.
Exide will now conduct business under the new name of Exide Technologies.
As part of the consolidation of the two companies, Exide has closed 27 of the combined company's branch locations. Exide also plans to cut 300 employees, 25% of the total, from its North American sales, marketing and support staffs through the course of this year.
The corporate office also will be downsized and moved to a new headquarters in Princeton, NJ., closing of the company's headquarters in Reading, PA.
As a result of the acquisition Exide will have approximately $3.2 billion in annual revenues "and will be either first or second in both transportation and industrial battery sales in every market it serves," according to the company.
GNB held a 20% share of industrial batteries in North America prior to the acquisition.
Robert Lutz, Exide chairman and CEO, said, "There are tremendous synergies between the two companies, with very little overlap when it comes to markets or customers. With the GNB acquisition we will reenter the fast growing North American industrial business. We will quickly integrate GNB with Exide, and execute profit improvement plans, particularly in the combined North American aftermarket business, to rationalize product lines, manufacturing capacity, distribution systems, and administrative activities."
GENCORP ACQUIRES DRAFTEX, CREATING LARGEST AUTOMOTIVE SEALING COMPANY IN NORTH AMERICA
GenCorp has acquired Draftex International Car Body Seals, creating the world's second largest automotive sealing supplier and the largest North American supplier of vehicle sealing systems -- with reportedly one-third of North American sales.
The purchase price was approximately $198 million and includes the Draftex Worldwide Headquarters and International European Technical Center in Dusseldorf, Germany as well as 11 manufacturing plants in six countries -- Germany, France, Spain, China, Czech Republic and the U.S.
Draftex adds about $415 million in annual sales to GenCorp as well as 5,484 employees worldwide.
"The acquisition of Draftex is consistent with GenCorp's strategy for our Vehicle Sealing segment to grow by participating in the consolidation occurring within the automotive industry," said GenCorp Chairman and CEO Bob Wolfe, announcing the deal.
Draftex now will be part of GenCorp Vehicle Sealing.
Originally published in the April/May 2001 issue of Automotive Booster Magazine.
Copyright 2001 by KAL Publications Inc.
Covering the California auto parts aftermarket since 1928.