Restoration Blvd. is a regular column reflecting on the state of the auto parts industry — from the perspective of an automotive enthusiast.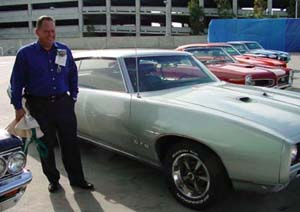 In this case, our automotive enthusiast is author Allen Wright. A life-long gearhead, Wright's first car was a 1928 Model A Ford Rumble Seat Coupe. Since that time, his fleet has included a 1955 Plymouth convertible, a 1959 Plymouth Fury, a 1963 Thunderbird, a 1965 Oldsmobile 442, a 1966 Ford Galaxy 400, and a 1968 Chevelle Super Sport.
His current cars include a 1977 Corvette, a 1963 Plymouth Super Stock and his recently completed restoration: a 1962 Plymouth Fury Golden Commando. Virtually every evening or weekend he can be found in his beloved garage, working on his current project.
In a professional capacity, Wright has been associated with the automotive industry for the last 35 years.
In his column, Wright reflects on his experiences with the automotive aftermarket on a personal level, commenting on the car shows he attends, the stores where he buys his parts, and even some of the characters he meets along the way.
Restoration Blvd. highlights from Automotive Booster Magazine:
Covering the California auto parts aftermarket since 1928.